As an eCommerce small business owner, setting up your online storefront can be a little daunting.
You've got to define your offerings, price your products, set up your Shopify store and align all your other processes to support a steady stream of sales.
And if you're also offering wholesale ordering, it's super important to make your Shopify store attractive and easy-to-use for your wholesale customers.
That's where we come in! Wholesale Gorilla is here to make buying from your eCommerce business a no-brainer.
In this blog, we'll share Wholesale Gorilla app features and business strategies you can implement to supercharge your wholesale business.
Clearly Showcase Your Wholesale Program to Prospective Buyers
If you offer wholesale ordering, your marketing should showcase your ability to customize orders, adapt to wholesalers' specific demands, and provide flexible terms or payment options.
Wholesale Gorilla allows you to create a dedicated section on your Shopify store to highlight the benefits of joining your wholesale program. (A little bragging never hurt anyone!)
This section can also clearly outline your product offerings, wholesale pricing, minimum order quantities, payment terms, and more.
Your wholesale partners will appreciate being able to easily locate your offerings without diving deep into your website or contacting you directly to gather this information.
Here's How It Works
Wholesale Gorilla creates a portal on your existing Shopify store, so approved customers can log and shop your store with special prices and features only they can access.
1. In the app admin, you start by setting wholesale discount rules for your entire store, certain collections, products, or even individual variants.
2. Then you set a customer tag this price applies to. (Only customers with this tag on their account will see the discounted price in their shop.)
You can create as many different customer tags and prices as you like, giving different customer groups different prices as needed.
Tags can be automatically added to customer accounts when they are created with our wholesale signup form.
Alternatively, you can manually add tags to a customer account in the Shopify admin.
Once the tag is saved to their customer account, the next time they log into your store, they can see all the discounted prices they are eligible for.
Not only do your wholesale customers see special prices, they can also access a powerful suite of features just for them. From shopping with our quick order form, adding PO numbers to orders, placing net checkouts, and more–you can create the buying experience that works best for your customers.
3. And on the back end, Wholesale Gorila simplifies your business by letting you manage your wholesale channel from the same Shopify channel as your retail channel. When orders come in, you can manage and fulfill them with the same workflows you're already using.
But if you require a more bespoke setup, Wholesale Gorilla has the best set of tools in the app store to build the wholesale solution that works for your business.
Offer Competitive Pricing Packages Wholesalers Can't Say No To
When it comes to selecting a partner, competitive pricing is paramount for wholesalers.
Pricing competitively doesn't mean cheapening your products. Instead, think about ways you can set your prices to make them more appealing to wholesalers that are purchasing in larger quantities.
Wholesale Gorilla's Professional Plan helps you implement pricing strategies such as tiered pricing and volume discounts by calculating cart subtotal discounts for you.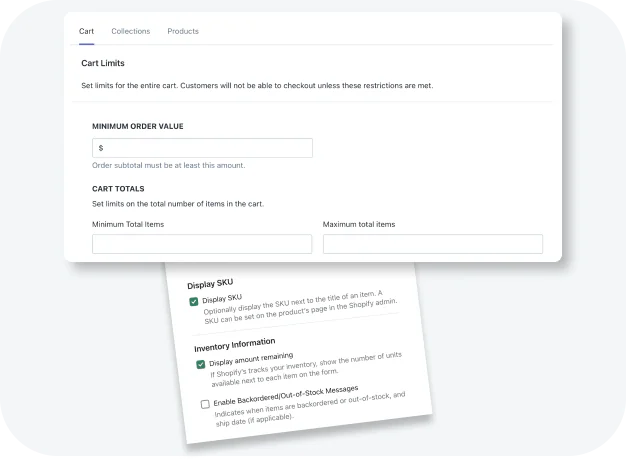 As wholesalers order more, they unlock better per-unit prices. This not only incentivizes bulk purchases but also rewards loyalty and commitment to your brand.
You may want to consider these other pricing strategies: bundle pricing, contract pricing, dynamic pricing that fluctuates with trends, and exclusive promotions.
Bundle Pricing
Bundle pricing is a method of grouping different products together and discounting them collectively. It allows you to cross-sell, and also provides a greater value to the customer than if each product was purchased separately.
Contract Pricing
Contract pricing sets a defined pricing structure for a defined period of time. This usually provides a sense of stability for both the customer and the business, and can lead to long-term relationships.
Dynamic Pricing
Dynamic pricing is the practice of fluctuating product pricing based on time of day, industry trends, supply and demand, or other factors that ebb and flow. This is a practice that can create greater revenue opportunities when pricing increases during peak demand. However, businesses must be careful with dynamic pricing as it can be perceived as price gouging if not done fairly.
Exclusive Promotions
Exclusive promotions offer special pricing for those who meet specific criteria that are not available to all customers. Wholesale pricing itself is a form of exclusive promotion; however, exclusive promotions can also be designed around limited-time deals or personalized preferences of segmented audiences.
Provide Samples to Prospective Buyers and Gather Testimonials From Happy Buyers
In some cases wholesalers might need a little assurance before committing to a partnership.
After all, wholesalers are often purchasing at much higher quantities with much longer lead-times.
One thing you can do to secure the relationship and build trust is offer free samples or discounted products to interested buyers.
Then, encourage those folks to provide feedback and testimonials, which you can proudly display on your website to continue to boost the credibility of your brand.
Support Wholesalers in Marketing Your Products
One of the best ways to provide white-glove service to your wholesale clientele is to give them the support they need to sell your products.
Educational content that provides wholesalers pointers on how to market your products to the end consumer can be extremely valuable.
Consider recording videos that highlight product features, supplying PDFs with how-to guides, or even live seminars or workshops. Wholesale Gorilla's platform makes it easy to distribute these resources to your wholesale partners.
All of a sudden, wholesalers aren't on their own. They have a partner to support their success.
Embrace Exclusivity Offerings With Open Arms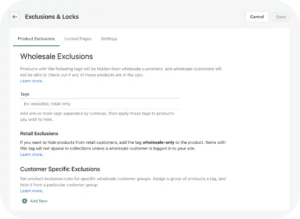 Why not consider extending an exclusive invitation to your wholesale partners by offering products or limited editions that are solely available to them?
Exclusivity is a powerful draw for retailers seeking distinctive offerings to set them apart in the market.
And, here's the secret sauce – you can effortlessly enable this air of exclusivity using Wholesale Gorilla's exclusions feature.
Forge Genuine Connections With Personalized Outreach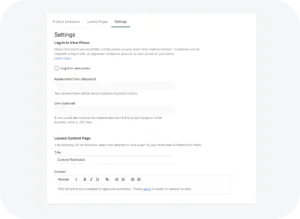 Leverage the capabilities of Wholesale Gorilla to craft personalized communications that resonate with potential wholesalers on a deeper level.
Making the effort to connect directly proves shows your dedication for helping both of your businesses win–whether you're answering a support question or simply learning about their business so you can serve them better.
If done authentically, engaging in these one-on-one, personalized conversations will boost your chances of welcoming new wholesale partners into your fold.
Network Within Your Industry And Identify Potential Collaborations
Success in business is about what you know–and also who you know.
Reach out to businesses and industry professionals who share your passion and vision. Building these strategic alliances can open doors to new opportunities and markets.
This is eCommerce, but don't forget about in-person opportunities! Make a point to attend industry-specific events, such as trade shows, exhibitions, and conferences. These gatherings are prime platforms to showcase your wholesale offerings and catch the attention of collaborations and alliances.
Seek out industry associations or chambers of commerce relevant to your niche. They can help you access valuable resources and networking events, as well as help you gain a sense of community with industry peers.
Build Your Community With a Robust Referral Program
Pro trip: Leverage Wholesale Gorilla to set up a referral program for your existing wholesalers.
Reward them for bringing in new wholesale partners. This will help you build a self-sustaining network of like-minded retailers.
To set up a referral program you'll want to clearly define incentives that motivate your partners to make referrals. These could be discounts, cash rewards, exclusive products or tiered benefits.
You'll also want to integrate the referral program with your existing eCommerce features to make the process seamless.
Give them everything they need to make referrals a success–including promotional materials like brochures or digital assets that highlight the benefits of partnering with you.
Conclusion
With Wholesale Gorilla, you have the ultimate solution to attract wholesalers to your Shopify store.
And if you need help implementing some of these features, our team of experts is on standby to help you get the most out of the app.
Ready to take your Shopify store to the next level with Wholesale Gorilla? Install the app today and watch your wholesale partnerships grow!