If you're in the wholesaling world, you've probably heard the name Faire more than a few times. 
It's one of the largest marketplaces for wholesale vendors out there – and we'll be the first to tell you, they do a great job at connecting sellers like yourself with buyers. 
When it comes to Faire and Wholesale Gorilla, we're not about to say you shouldn't use them or that we're somehow better than them. Chances are using both could work out very well for you. 
Using one alone is also a great bet depending on where you're at with your wholesale business.
Our goal is to help you understand what Faire does, how it compares to Wholesale Gorilla, and share a few ideas for how to use both tools together.
Wholesale Gorilla & Faire: Two Products, Two Use Cases

First things first, let's make this clear.  
Wholesale Gorilla and Faire are two completely separate products that solve different problems.There won't be any line-by-line comparison. 
Instead, we'll explain how both platforms can support your wholesale business. Let's first lay out some basic definitions. 
Wholesale Gorilla is a Wholesale Platform for retailers on Shopify to sell and manage  wholesale products through their own store. 
Faire is a Wholesale Marketplace for retailers to connect with an existing network of buyers.
Now let's break down the main problem each product solves.

Wholesale Platforms & Marketplaces

Wholesale Gorilla (like other wholesale platforms) solves an operations problem around inventory and customer relationship management.
These processes are usually siloed in traditional wholesale, which makes it harder to account for inventory, manage contacts and promotions, and more. 
Wholesale Gorilla solves this by letting you create a wholesale portal via your Shopify store. You can sell products, manage transactions and relationships online from Shopify.

The main problem Faire (along with other wholesale marketplaces) solves is one of customer acquisition. Every wholesaler needs to find customers and Faire gives you access to a network.

If you don't have a rolodex of wholesale buyers, you can list your products on Faire's marketplace to gain visibility amongst buyers that are already on the platform.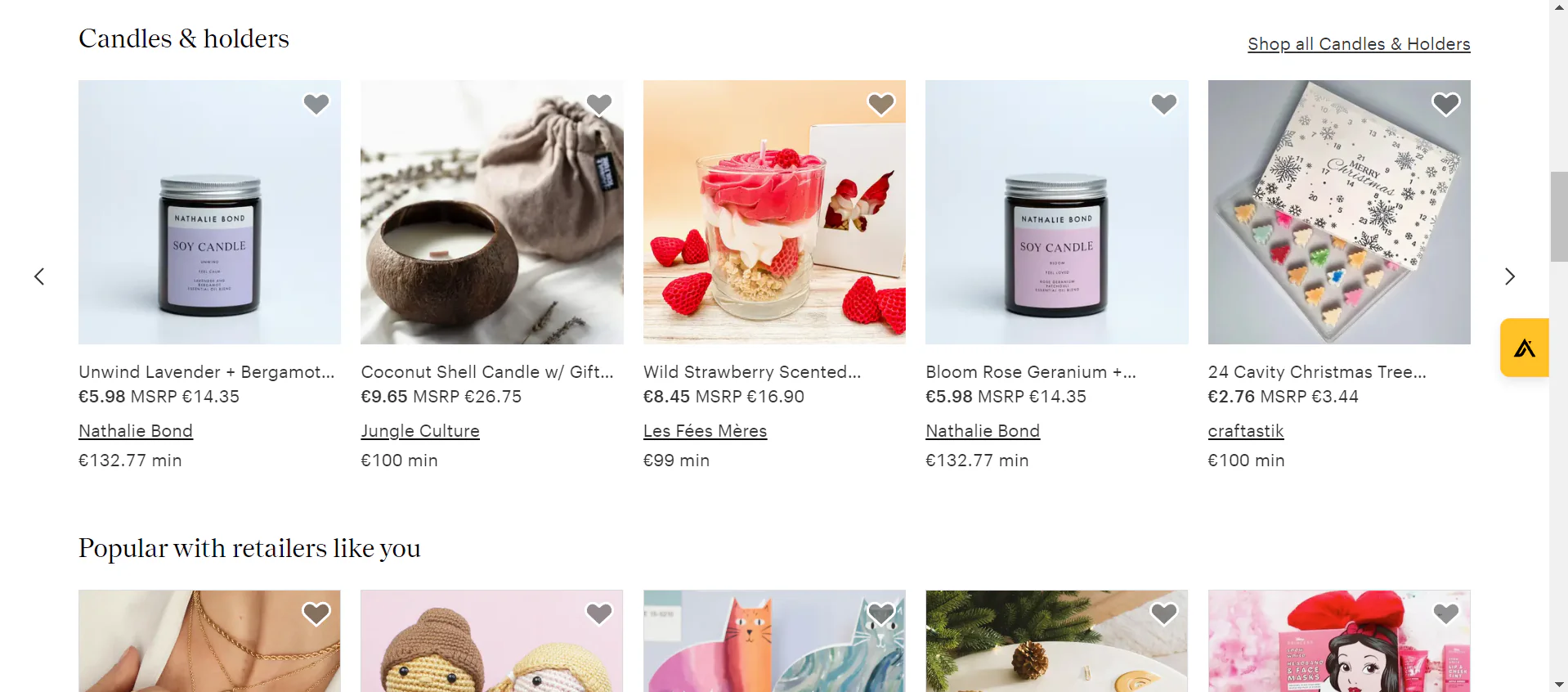 Here's a screenshot of Faire and what your products look like to buyers. On the homepage, your products appear next to other wholesale vendors.
What Makes Wholesale Gorilla Different from Faire 
Before we talk about all the features, pricing, and little details, we thought it'd be best to tell you right off the bat how Wholesale Gorilla is different from Faire
This should help clarify how each fits into your existing wholesale business strategy. 
Storefront Customization 
The first area where Wholesale Gorilla and Faire differ greatly is store and brand customization. With Wholesale Gorilla, your store sits on top of your Shopify theme on your own website.
You get full customization over your store's appearance and ultimately your brand online.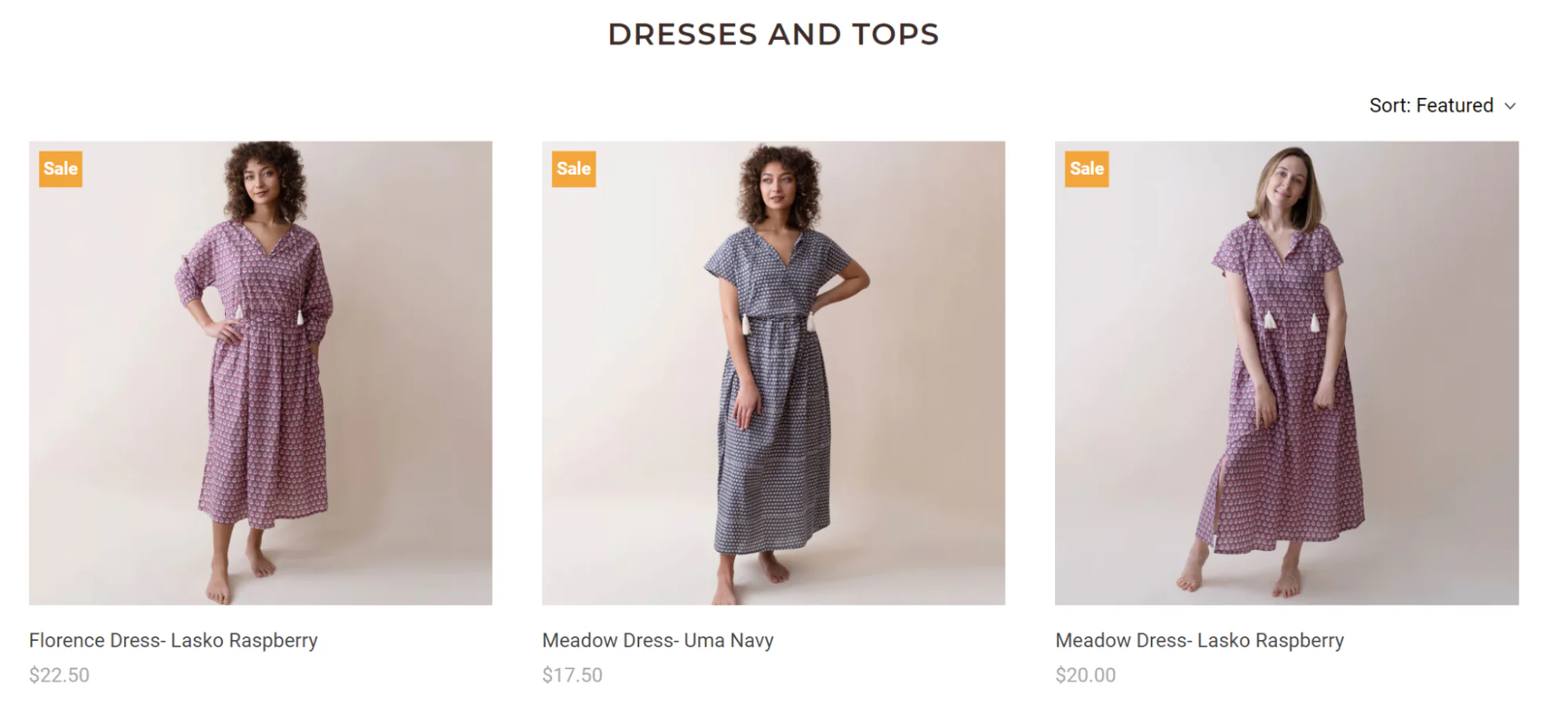 Here's one example of what buyers see on your site with Wholesale Gorilla.

On Faire, this functionality is far more limited. You have places where you can add descriptions, your mission, banner and product images.
However, beyond that, there isn't as much customization. All stores on Faire typically adhere to the marketplace's brand guidelines to provide a consistent experience for buyers on the site.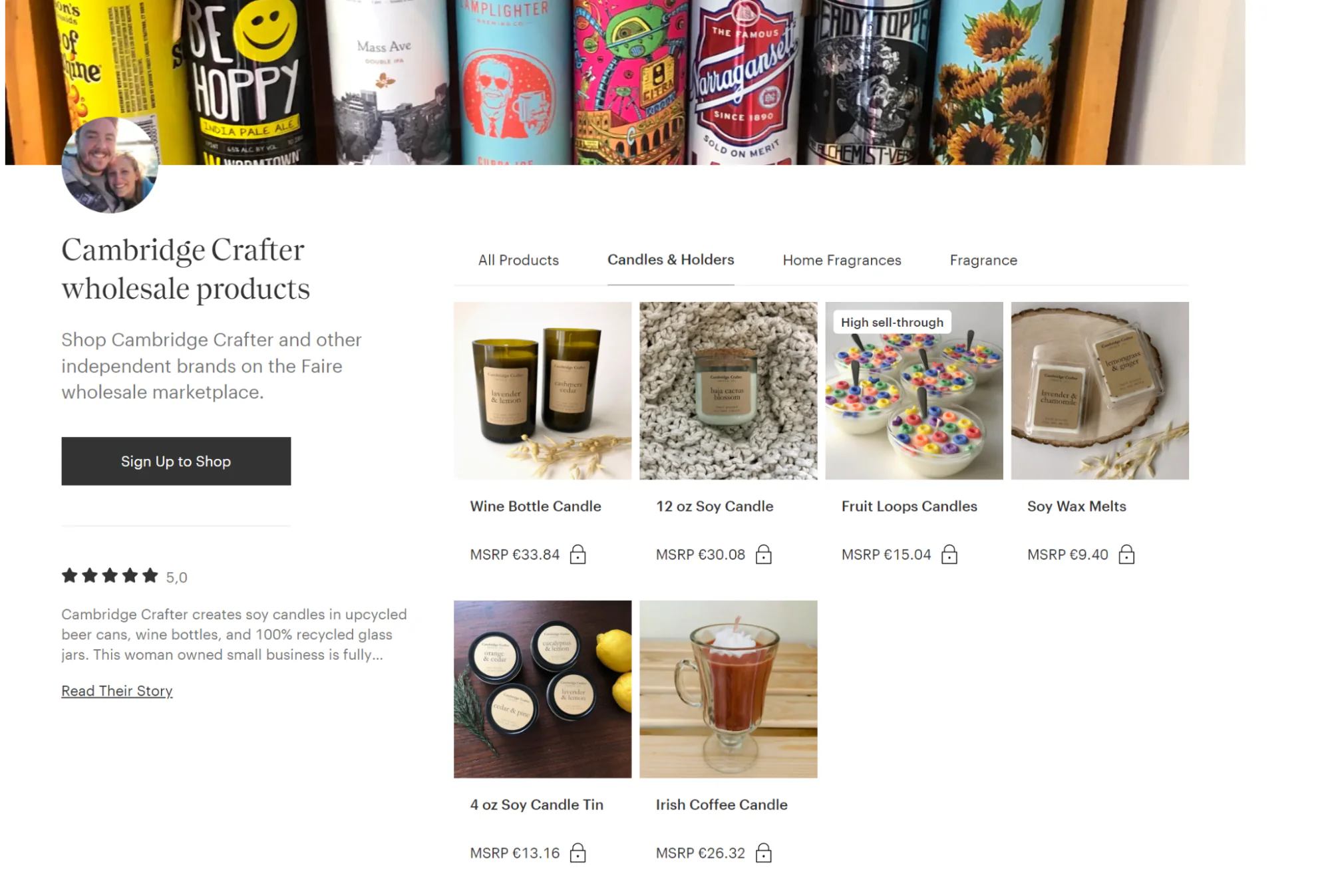 Here's one example of what buyers see on your store page on Faire.
Most businesses– and probably you too– invest a lot of time and money into their brand identity. Wholesale Gorilla lets you maintain control of your brand.

On Faire, you're a bit more limited. The customization only goes so far as all stores need to fit within the marketplaces brand guidelines to give buyers a cohesive experience. 
If you care about how your store or brand looks to buyers, then you will have more customization on Wholesale Gorilla over Faire. 
Marketing Capabilities
Marketing is the next area where Wholesale Gorilla and Faire are very different. 
In terms of marketing capabilities, Wholesale Gorilla provides pricing rules and the ability to customize your storefront via the Shopify interface.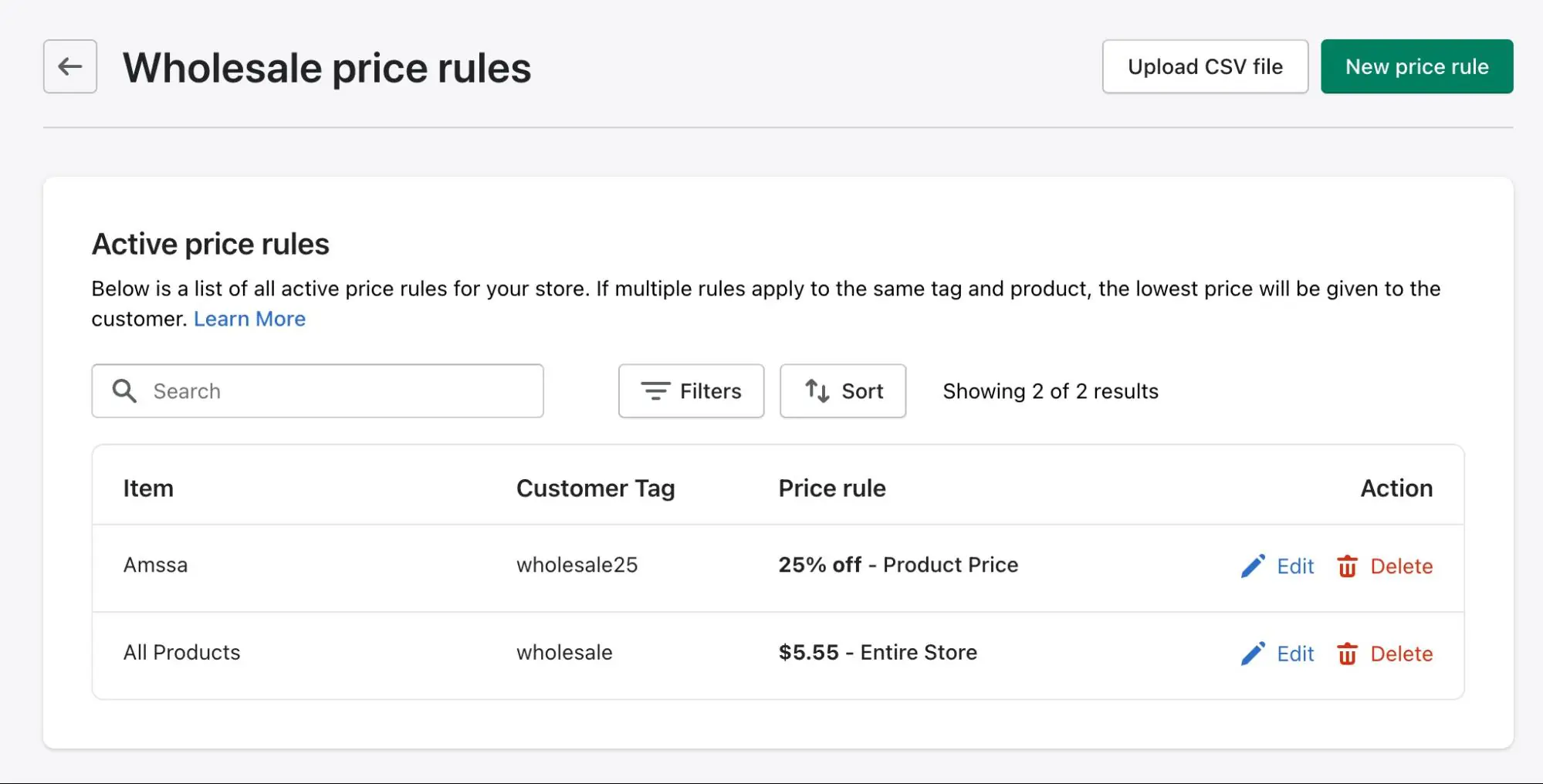 Here's the pricing rules feature in Wholesale Gorilla.
You then use marketing tools or promotions to make buyers aware of your wholesale business, which works well if you're looking to generate awareness through social media or paid media on Facebook or Google. 
With Faire, you aren't able to customize your marketing program as much (i.e. set up campaigns on Google, Facebook, or run website experiments), but do get access to select features through the marketplace. 
Buyers can search your products in the marketplace. Faire will add badges to your products with high sell-through (if you hit given criteria) and potentially bid on keywords in Google related to your brand or product category. 
You can also send targeted emails and promotions to customers to encourage repeat orders.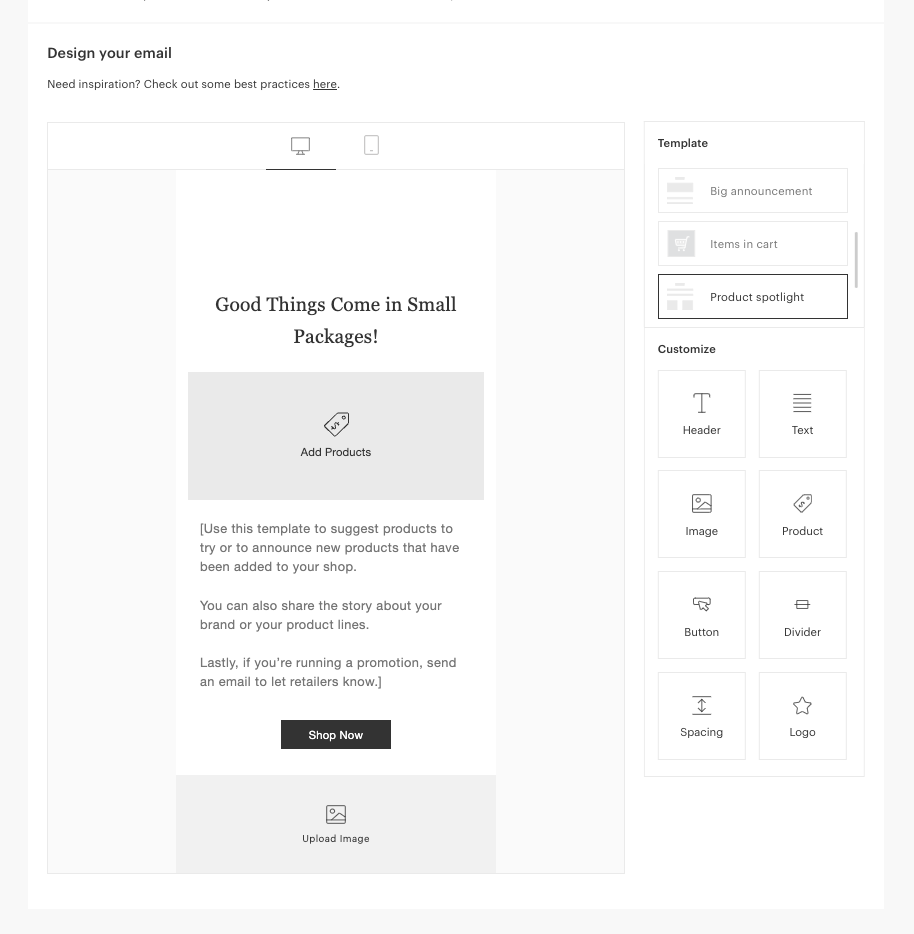 Here's the email campaign builder in Faire.
The tradeoff here is customization but access to tools to reach buyers in the marketplace.
If you have the money and experience to invest in digital marketing or relationships with buyers, Wholesale Gorilla will integrate easily with your program's strategy. 
This is also important because you'll have more flexibility to do marketing that reaches buyers where they normally browse and fully customize their marketing experience from first impression to first order. 
Faire's definitely boasts more native tools, but these are made to help you gain traction in their marketplace, not the customers outside of it.
On the flip side, Wholesale Gorilla has more features for running your own wholesale store directly from Shopify in concert with whatever marketing campaigns you choose. 
Pricing & Transaction Fees 
Lastly, it's crucial to consider everything we've talked about so far in terms of cost – the final area where Wholesale Gorilla and Faire differ significantly.

Wholesale Gorilla will cost you $39.95 per month with no charges based on order volume.

Faire is free to use but charges based on a transaction model that takes a percentage of sales from buyers that purchase from your store within the marketplace.

You pay 0% for Faire Direct buyers, however if they re-order, you will be charged at the 15% variable plus whichever payout variable you select.

For all customers that come from Faire you pay 15%. You also have to pay 1.9%-3.5% depending on how fast you want your earnings.

This is how you pay for their marketplace, buyer network, and marketing tools.

If you process a high volume of orders through Faire, you'll probably end up paying significantly more than Wholesale Gorilla. Let's use a quick example:

If your store generates $100,000 per month, you would end up paying $15,000 plus payout fee to Faire (excluding Faire Direct orders). With Wholesale Gorilla– if you can generate the same amount of orders to your site– you only end up paying $39.95.
Again, this all depends on if you need access to their buyers or not. But as you can see, the transaction fees definitely take a sizable chunk from your gross revenue and margin.
Wholesale Gorilla & Faire: Features & Price 
Now that we've covered the main differentiators, let's get into the details on features and pricing. Here you'll be able to get a high level about what tools each platform offers. 
Wholesale Gorilla Features 
Wholesale Gorilla is built on top of Shopify's native tagging and inventory management system so your wholesale inventory always remains in-sync. 
Here's what makes up the core feature set: 
Wholesale Login Portal

– Where customers go to sign into see wholesale products 

Quick Order Form:

A line sheet page of wholesale products for purchase

Net Terms:

Toggle for setting up net terms purchase options 

Shipping Rules:

Toggle for rates for wholesale-only shipments 

Wholesale Pricing Rules:

Discount settings, applicable to one or many customers 
It's important to note that Wholesale Gorilla runs on top of whichever Shopify theme you choose and lets wholesale customers have the same experience as retail customers would, but with your wholesale products and prices.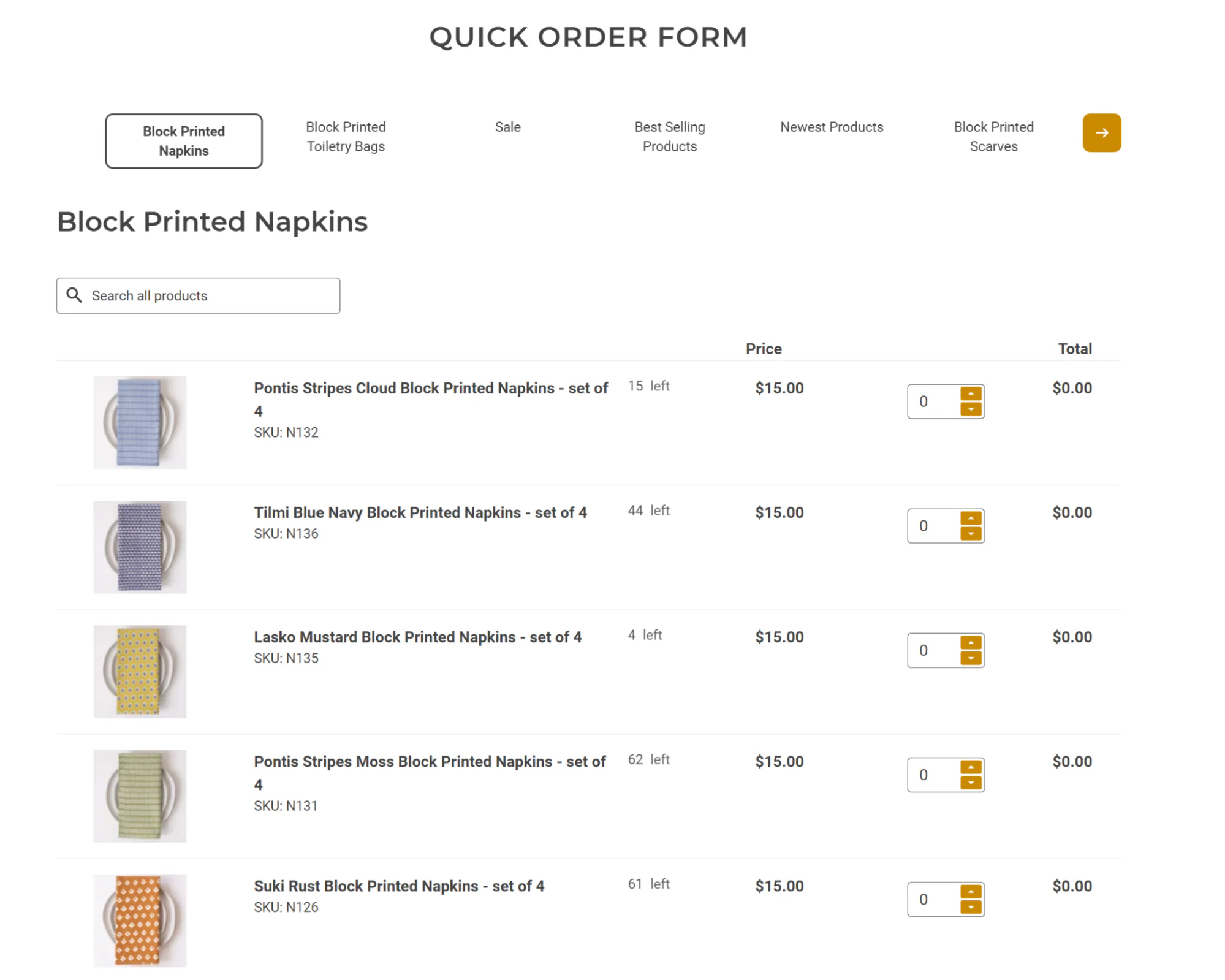 Here's what the Quick Order form looks like to your customers with Wholesale Gorilla
Faire Features


Since Faire is its own marketplace brand, you'll see most of the features are geared towards setting up your store inside Faire's ecosystem. The core feature set includes:
Marketplace:

Where all stores and products are listed for buyers to view 

Storefront Page:

Your individual store's page for buyers to view your products

Analytics:

Sales analytics on your wholesale products 

Marketing Tools:

Promotion codes, email segments, and badges 

Messages:

Message center for conversations with buyers on Faire 

Shipping:

Done-for-you shipping in partnership with Faire's distribution service 
Essentially, what Faire provides in their feature set is an easy-to-setup solution for wholesale stores that's connected to Faire's marketplace. 
Pricing
Let's talk about how Wholesale Gorilla and Faire compare in terms of price. 
Wholesale Gorilla offers a 30-day free trial. Afterwards, you can select the Standard Plan which costs 39.95 per month with the option to add additional features and support at a higher tier. 
We operate on a subscription model so you'll pay the monthly fee regardless of order volume. 
To use Faire, you have to pay different sets of transaction fees. 
Faire charges $10 for first time orders from buyers already in their ecosystem + 15% per transaction. You pay 0% per transaction for buyers you bring to their platform via Faire Direct.

There is also a separate transaction fee for payouts which range from 1.9% to 3.5%. This depends on how quickly you want to get paid, which you can adjust in your Faire settings.
Can You Use Wholesale Gorilla & Faire Together? 
We think so – and so do our customers! At the end of the day, Faire is a sales channel for many wholesale sellers to tap into a buyer network at a premium transaction rate. 
Our top customers use Wholesale Gorilla to easily manage their wholesale store and process repeat orders from customers in their rolodex. 
Additionally, they use Faire to find additional wholesale customers in their marketplace.
It's totally feasible to use both channels. Just make sure you read over Faire's terms of service for brands and general users.

At the end of the day, your buyers will want to purchase in the way that's most convenient for them. For some, that's through a marketplace like Faire and for others that's directly from you. 
The Final Take: Wholesale Gorilla vs. Faire
If you made this far – you're probably wondering about our final honest take about Faire and Wholesale Gorilla. Here's our real opinion.
Wholesale Gorilla is a fantastic solution if you have existing wholesale relationships and need to get your store online quickly to start generating online orders.

You'll be able to set up your website in just a few minutes and start processing orders quickly. 

If you're a wholesaler that's just starting out and need to acquire customers without spending too much on marketing, it's worth checking out Faire.

Their platform gives you a bunch of marketing tools to start developing your buyer network. 
Just make sure to keep track of your gross margin and revenue as Faire's steep fees can make it hard for wholesale businesses to scale in the long term. 
Because of this, Faire really shouldn't be the only store you rely on.

Wholesale Gorilla is definitely a better option for wholesalers that have established buyers or are comfortable running their own digital marketing campaigns.

You'll be able to take home more gross revenue from every order (and reorder) which is generally more financially sustainable. 
At the end of the day, having your website as a sales channel via Wholesale Gorilla and visibility on a marketplace like Faire is a perfectly viable option for many wholesalers out there.

It's all about giving buyers the best shopping experience possible, and Wholesale Gorilla and Faire both do a great job at that.