B2B e-commerce represents a substantial market with significant growth potential.
The market size is predicted to grow at a compound annual growth rate of approximately 31.55%between 2023 and 2030, according to Grand View research.
As businesses increasingly embrace digital transformation, there is a growing demand for online B2B purchasing solutions. Entrepreneurs and businesses see this as an opportunity to tap into a large and expanding market.
When beginners search for information about B2B e-commerce online, they often come across basic introductory material that provides a surface-level understanding of the topic.
Our guide will tell you everything you need to know about B2B ecommerce, so you can confidently start and grow your own B2B online business without any doubt. Plus, we will reveal unique tips from ecommerce store owners you can implement right away.
What is B2B ecommerce, and how does it work?
B2B (business-to-business) ecommerce is a type of electronic commerce where products, services, or information are exchanged between businesses rather than between businesses and consumers (B2C).
B2B ecommerce involves transactions between a manufacturer and wholesaler, or a wholesaler and a retailer, through an online sales portal (e-commerce platforms and marketplaces) such as Shopify Plus, Amazon Business, and Alibaba.
In B2B, one business sells a set of products or services to another business, and typically, a group or department uses the vendor's products and services. B2B ecommerce can benefit businesses by expanding customer reach and reducing cost-to-serve to drive more revenue.
There are several types of B2B ecommerce transactions and relationships which can take place online, including:
| | |
| --- | --- |
| Manufacturers | A manufacturer sells goods to another company, typically a retailer |
| Wholesalers | A wholesaler sells products to retailers or other businesses. |
| Large retailers | Large retailers may purchase goods directly from manufacturers or wholesalers. |
| Resellers | Resellers purchase products from manufacturers or wholesalers and sell them to other businesses. |
Types of B2B ecommerce
B2B2C
Business-to-business-to-consumer (B2B2C) ecommerce takes out the middleman, usually between the B2B organization and the B2C, putting the businesses directly in contact with the consumer.
Pros:
Direct access to consumers
Increased sales potential
Better control over the customer experience
Cons:
More complex logistics
Higher marketing costs
More competition
Wholesale
A wholesaler sells products to retailers or other businesses. In B2B ecommerce, wholesalers can sell their products to other businesses through an online sales portal.
Pros
Streamlined supply chain
Reduced costs
Increased efficiency
Cons
Limited customer reach
Lower profit margins
Dependence on a few large customers
>>Are you a merchant looking for more predictable and larger-scale orders on Shopify? Try out Wholesale Gorilla for your Shopify store, with a 30day free trial.<<
Manufacturer
A manufacturer sells goods to another company, typically a retailer. In B2B ecommerce, manufacturers can sell their products to other businesses through an online sales portal.
Pros
Expanded customer reach
Reduced cost-to-serve
Increased revenue potential
Cons
Dependence on a few large customers
Limited control over the customer experience
Higher marketing costs
Distributor
A distributor purchases goods from manufacturers and sells them to retailers or other businesses. In B2B ecommerce, distributors can sell products to other businesses in the same way as manufacturers.
Pros
Increased efficiency
Reduced costs
Streamlined supply chain
Cons
Limited customer reach
Dependence on a few large customers
Lower profit margins
Best B2B ecommerce platforms to start your business
1. Shopify & Shopify Plus

Shopify is a popular e-commerce platform designed for small to medium-sized businesses, offering essential features for setting up and running online stores.While Shopify Plus is an advanced and scalable version tailored for larger enterprises and high-growth businesses.
Shopify Plus includes all the features of Shopify but adds more advanced customization options, dedicated account managers, improved API access, better scalability to handle high traffic and large order volumes, and priority support. While Shopify is ideal for most smaller businesses, Shopify Plus is best suited for larger enterprises with more complex e-commerce needs.
Pros
Scalability – Shopify handles high-traffic volumes and large product catalogs, ensuring a smooth and reliable shopping experience for your customers even as your business grows.
Customizability – With access to the underlying code, Shopify Plus offers extensive customization options, allowing you to create a unique and personalized online store that aligns with your brand.
Integrations – Shopify Plus integrates seamlessly with numerous third-party applications and tools, enabling you to automate various aspects of your business and streamline operations.
Cons
Cost – Shopify Plus is more expensive compared to the standard Shopify plans, as it starts at $2k per month. Using a wholesale app for Shopify like Wholesale Gorilla is a cheaper alternative to Shopify Plus for adding wholesale to Shopify.
Complex– While Shopify Plus provides user-friendly tools, there may still be a learning curve associated with managing and customizing the platform, especially if you are new to e-commerce.
Limited Control – Although Shopify Plus offers customization options, there may be limitations on complete control over the platform's functionality and infrastructure, which might not suit businesses with highly specialized or unique needs.
BigCommerce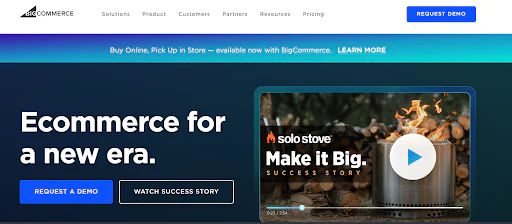 BigCommerce is a strong platform for starting your B2B e-commerce business due to its robust features, flexibility, and focus on B2B functionality. It offers comprehensive tools to manage and scale your operations, supports complex pricing and customer group structures, and provides a seamless shopping experience for your B2B customers.
Pros
No platform fees/commission – Unlike Shopify, BigCommerce does not charge any platform fees or commissions on any of its plans, allowing businesses to save on costs and allocate resources more effectively.
User-friendly features – BigCommerce provides a variety of free, built-in features that cater to various business needs, helping prevent costs from escalating quickly.
Multichannel integrations  – BigCommerce seamlessly integrates with various marketplaces and social media platforms, making it a natural choice for businesses already selling across multiple channels.
Cons
Complex – Like any platform, BigCommerce may have a learning curve, especially for users who are new to e-commerce platforms or have limited technical expertise. Familiarizing oneself with the platform's features and customization options may take some time and effort.
Advanced customization limitations –  While BigCommerce provides customization options, businesses with highly specific or complex requirements may encounter limitations in terms of advanced customization or modifying the platform's underlying code.
Pricing –  Although BigCommerce offers value in terms of its feature set, businesses with larger product catalogs or higher order volumes may find the pricing higher than other platforms.
How to set up a B2B ecommerce platform
1. Choose the right platform
Many B2B ecommerce platforms are available, so choosing one that fits your business needs is important. Consider factors such as ease of use, customization options, and pricing. Since the most popular option is Shopify Plus, we will show you how to set it up in 5 steps.
2. Set up your storefront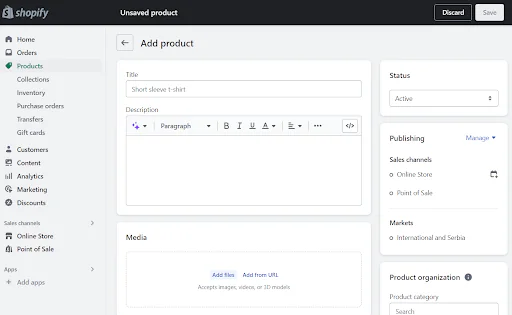 Once you have chosen a platform, you can begin setting up your digital storefront – Add product listings, create categories, and set up payment and shipping options.
To ensure a positive customer experience, it's important to optimize your ecommerce platform. Implement flexible purchasing options, volume-based discounts, and loyalty programs.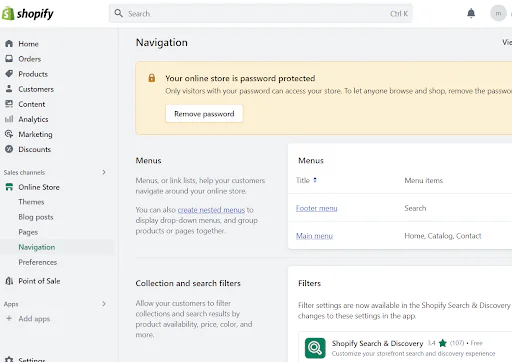 3. Manage orders and inventory
A B2B ecommerce platform allows you to automate sales and manage orders through an online portal. This includes tracking inventory levels, processing orders, and managing customer data.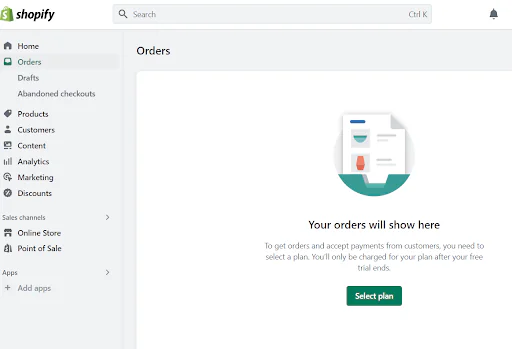 4. Monitor analytics and performance
To improve your ecommerce operations, monitoring analytics and performance metrics is important. This may involve tracking sales data, analyzing customer behavior, and identifying areas for improvement.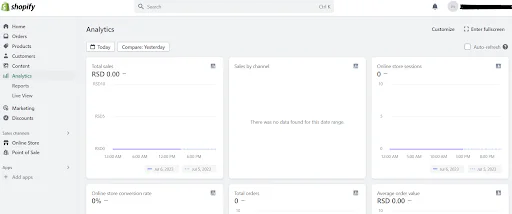 5. Continuously improve
Finally, it's important to continuously improve your B2B ecommerce platform. This may involve implementing new features, optimizing your customer experience, and staying up-to-date with the latest trends and technologies.
Best apps for B2B ecommerce platforms
Wholesale Gorilla

Wholesale Gorilla is an app designed for businesses using the Shopify platform who want to offer wholesale capabilities and improve their B2B e-commerce operations.
We have built this app to provide a comprehensive set of features and tools specifically tailored for wholesale transactions and customer management while aiming to simplify and enhance the wholesale buying experience for businesses and their customers.
The app allows businesses to create a separate wholesale portal within their Shopify store. This portal can be fully customized to match the brand's identity and offers an enhanced customer experience for wholesale buyers.
Wholesale Gorilla enables businesses to sell products at wholesale prices, manage wholesale orders and payments, and implement specific rules and settings for wholesale transactions.
Key features of Wholesale Gorilla:
Wholesale checkout – Businesses can customize the wholesale checkout experience by setting custom payment terms, rules, limits, and more, enabling tailored and efficient wholesale purchasing.
Automation and rules  – The app provides powerful automation and rule-setting capabilities, allowing businesses to streamline their wholesale operations and save time on tasks such as order management, inventory tracking, and customer tagging.
Product exclusions  – Businesses can choose to hide specific products from wholesale or retail customers, giving them greater control over product availability.
Quick order form  – Wholesale Gorilla offers a simplified ordering process through a quick order form.
Wholesale registration  –  The app automates the registration process for wholesale customers. It automatically tags, activates, and creates trade customers within the Shopify store, simplifying the onboarding process.
Customization  –  Wholesale Gorilla allows businesses to customize various aspects of their wholesale portal, including messaging, registration forms, language translations, and customer-specific discounts. This helps create a personalized and branded experience for wholesale customers.
Volume quantity discounts  –  Businesses can set minimum, multiple, and maximum quantity rules for cart totals, collections, or specific products. This encourages bulk purchasing and incentivizes larger orders.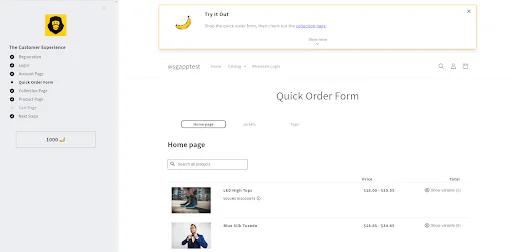 >>Find out more about Wholesale Gorilla here <<
Singleton Verify Customers

This app is a customer verification and access control tool designed for B2B e-commerce stores. Its main purpose is to allow businesses to verify and approve or decline registered customers, controlling their access to product prices and the ability to add items to the cart.
Key features:
Customer Verification – Businesses can verify and approve or decline registered customers one by one or based on customer tags. This process ensures that only approved customers can proceed with purchasing.
Price and Button Control – For not approved customers, the app hides product prices and "Add to cart" buttons. Instead, a customized message is displayed. This feature ensures that only verified customers can view prices and initiate purchases.
PageFly Landing Page Builder

PageFly is an app designed to help Shopify store owners create and customize high-converting landing pages and other pages on their website. It offers an intuitive drag-and-drop editor that allows users to easily design and customize pages without any coding knowledge.
Key features:
Drag-and-drop editor – PageFly provides a user-friendly interface with a drag-and-drop editor, enabling users to effortlessly customize the visuals and functionality of their pages down to the smallest detail.
Templates and customization – Users can choose from a library of templates to kickstart their page design or build pages from scratch.
SEO – Pages created with PageFly are designed to be SEO-friendly, helping to improve search engine rankings and increase organic traffic to the store.
Conversion optimization – The drag-and-drop builder and lead capture features of PageFly help maximize conversions by creating compelling landing pages and capturing customer information effectively.
B2B ecommerce best practices
Turn your existing customers into your wholesale buyers
Use pavement-pounding strategies, such as attending trade shows and cold calling, to find potential wholesale customers. Leverage existing customer bases with an established wholesale customer network to ease the process of finding buyers.
Make the onboarding process smooth
Make the onboarding process seamless by offering personalized account invites and setting up accounts for customers using platforms like Shopify. Send account invites with a clear call-to-action to encourage wholesale customers to use the platform.
Recognize the lifetime value of wholesale customers
Cultivate strong relationships with wholesale customers through personalized engagement, including sending holiday gifts and finding ways to interact with them in person or through personalized communication. Recognize the immense lifetime value of wholesale customers and invest in maintaining these relationships.
Stay in touch with wholesale customers to understand their needs, gather feedback, and offer assistance when needed. Offer incentives, such as free shipping options or quick order forms, to entice wholesale customers to use the platform and place orders.
User-Friendly E-commerce Website: 
Create a user-friendly and responsive e-commerce website, well-organized with product collections, quick order forms, and a clean interface to enhance the user experience for wholesale customers. Ensure that products are well organized, particularly when dealing with many SKUs, to help wholesale customers quickly find what they need.
X successful B2B ecommerce examples in 2023
Some of the most successful common characteristics of a B2B ecommerce website are:
Multiple Payment options
Dynamic pricing
Responsive and user-friendly B2B themes
High security
Intuitive search and filtering
Scalability and customizability
"The key to a successful B2B ecommerce store is a responsive and user-friendly theme, and I would say having your collections of products well organized. All in all, having a great user interface, just a nice clean website, taking advantage of our quick order form and organizing it with collections is great, so your buyers can just log on and quickly place an order with the form"   Brandon, owner of Wholesale Gorilla.
Chocomize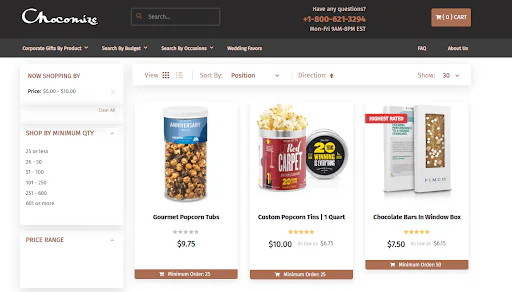 2. Laird superfood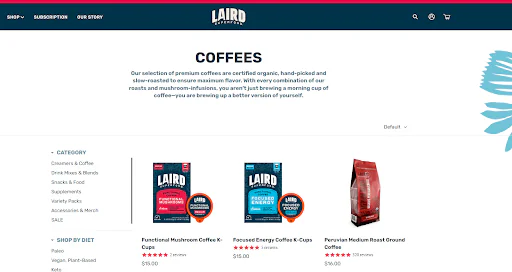 3. Beard & Blade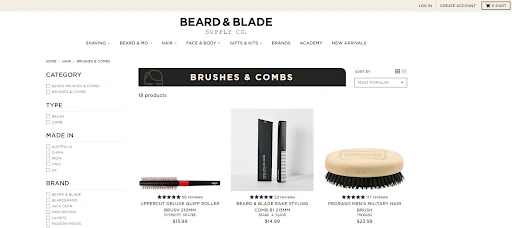 FAQs
1-What are some b2b ecommerce myths?
B2B eCommerce isn't limited to large businesses; businesses of all sizes can benefit. Despite perceived complexity, user-friendly platforms and tools simplify setup and management. While costs vary, the benefits of increased sales and improved customer experience outweigh the investment, and B2B eCommerce applies to various products and services beyond commodities.
2-What's the difference between B2B and B2C?
B2B eCommerce involves transactions between businesses, while B2C eCommerce occurs between a business and a consumer. B2B transactions tend to be more complex and involve larger order sizes, longer sales cycles, and multiple decision-makers. B2C transactions tend to be simpler and involve smaller order sizes and shorter sales cycles.
3-How to increase B2B eCommerce sales?
Improve website design and user experience: Make sure your website is easy to navigate and provides a seamless user experience. Offer personalized recommendations by using data and analytics to provide personalized product recommendations to customers. Respond to customer inquiries promptly and provide helpful and informative responses.
4-Which B2B eCommerce trends will dominate in 2023?
Prioritizing speedier delivery and fulfillment, mobile optimization, omnichannel sales, ecommerce tools that automate sales processes and sustainable ecommerce.