Adding a wholesale option to your Shopify store is an excellent strategy to expand your business. Most people use Shopify Plus for this since it's the most straightforward option. It allows you to sell your products in bulk to retailers or other businesses and opens up new revenue streams and partnerships.
But Shopify Plus often isn't the best option for smaller businesses, since it starts at $2,000 per month. There is a way to add wholesale functionality to your store without breaking the bank. A cost-effective app might just be the alternative you're looking for.
In this step-by-step guide, we'll walk you through the process of adding a wholesale app to your Shopify store.
Adding Wholesale to Shopify Using Wholesale Gorilla: A Step-by-Step Guide
Step 1: Enable Customer Accounts in Shopify 
Before you start make sure that customer accounts are enabled in your Shopify settings. Click on 'Settings' then 'Accounts in online store and checkout', add accounts, and save. 
With the classic customer accounts, B2B accounts will not be supported, they will need to log in at the new customers accounts URL instead.

Step 2: Install Wholesale Gorilla
To begin, navigate to the Shopify App Store and search for Wholesale Gorilla. Click on the app and follow the prompts to install it onto your Shopify store.
Step 3: Set up Wholesale Gorilla
Once Wholesale Gorilla is installed, access the app from your Shopify admin dashboard. Follow the setup wizard, which will guide you through the initial configuration process. You'll need to provide some basic information about your business and wholesale operations.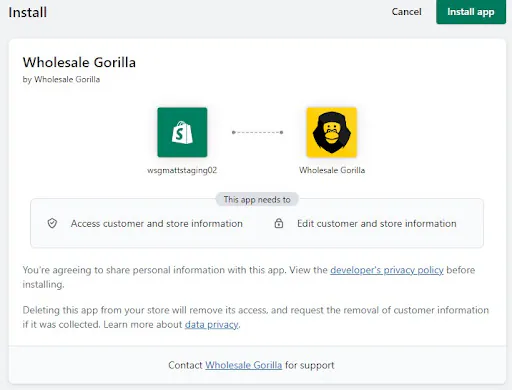 Step 4: Enable App Embedding in your Shopify theme
Go to 'Online Store,' then 'Themes,' and click 'Customize.' In the 'Theme Settings' section, make sure the toggle for app embedding is turned on. Then access Wholesale Gorilla in your Shopify admin.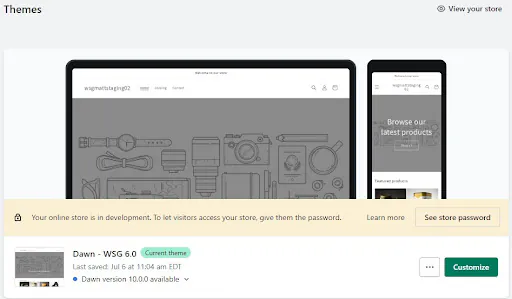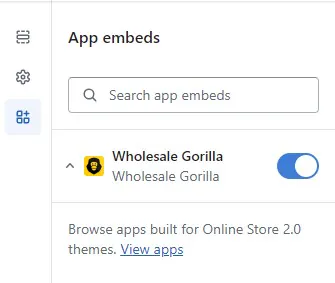 Step 5: Create Wholesale Pricing
You can create multiple pricing tiers for your wholesale customers. Navigate to the 'Discounts' section. Here, you can view active wholesale price rules. To create a new discount, click 'Create Discount.' You can set a wholesale discount for the entire store, a specific collection, or a product. You can specify the amount as a percentage or a set price.
When creating a discount, choose a customer tag to determine which group of customers will receive the discount.
Step 6: Apply Wholesale Tags to Customer Accounts
Once you have set up the discount rules and tags in, you need to apply the tags to your customer accounts.
Go to the 'Customers' tab. Select a customer and the tag you created.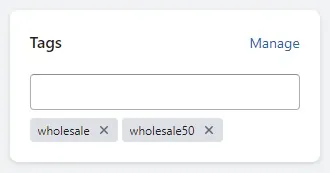 Customers with the tag will see the discounted prices throughout the store. The tags should perfectly match the discount tags created in the app. 
Your Wholesale Store
Once you have created your wholesale Shopify store your customers can easily log in and browse your products. If you would like to see it for yourself visit this demo store.
This example shows how your store will look like. When your customers, that you created tags for, log in to your store they will see the discounted prices. 
*The prices shown are not discounted.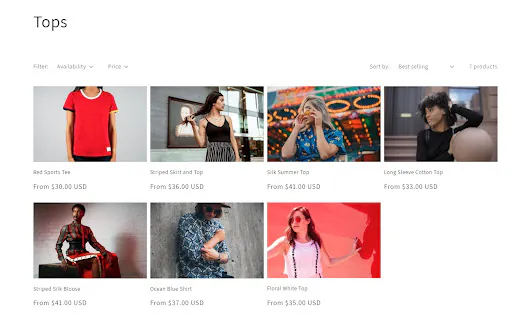 After they have selected a product your customers can easily place an order from the shopping cart.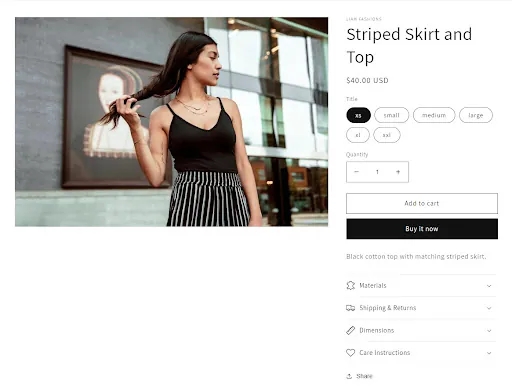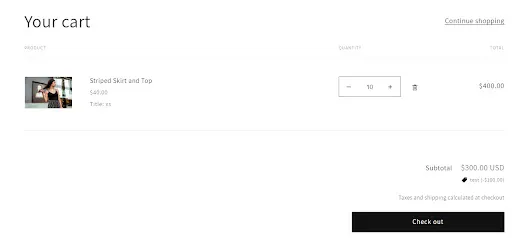 More about Wholesale Gorilla
Wholesale Gorilla is a feature-rich app designed to simplify the process of managing wholesale operations on your Shopify store. It offers a comprehensive set of tools and functionalities specifically tailored for wholesale businesses.
Features and Capabilities
Wholesale Gorilla provides a range of features to help you seamlessly incorporate wholesale into your Shopify store:
Wholesale pricing:

Set different pricing tiers for your wholesale customers, ensuring they receive exclusive discounts.

Flexible discount rules:

Create custom discount rules based on order quantity, customer tags, or specific products.

Private wholesale store:

Create a separate, password-protected wholesale store for your wholesale customers.

Bulk ordering:

Wholesale Gorilla enables your customers to add multiple products to their cart with just a few clicks, streamlining the ordering process.

Order management:

Easily manage and track wholesale orders within your Shopify admin interface.

Customizable emails:

Customize order notifications and emails sent to your wholesale customers to maintain brand consistency.
Pricing
Wholesale Gorrila features two cost-effective pricing plans.

The Standard plan goes for $39.95/month, and it offers:
Unlimited prices and customer groups

Net terms

Quick Order form

Wholesale Signup form

Order Limits

Wholesale shipping rules
The Professional plan is $149.95/month, with additional features like:
CSV price uploads

Quantity breaks

Page locks

Advanced payment terms

Customizable sign-up form

Customer-specific product exclusions
You can check out Wholesale Gorilla Plan Comparison, for more details.
The Alternatives to Shopify Plus for Wholesale Stores
Going for wholesale apps is the easiest way to add wholesale to your Shopify without having to pay for Shopify Plus. But there are other alternatives as well.
Creating a Custom-Made Shopify B2B Store
For businesses with unique requirements and a need for complete customization, creating a custom-made Shopify B2B store is an option. This involves working with a Shopify expert or developer to build a tailored B2B solution from scratch. 
Custom development allows for precise control over the wholesale functionality, user experience, and integration with other systems. It is important to consider the cost and timeline associated with custom development.
Alternative Platforms
While Shopify Plus is a popular choice for wholesale operations, there are alternative platforms available that cater specifically to B2B businesses. Some alternatives are:
Magento Commerce 

WooCommerce 

BigCommerce B2B 

Salesforce Commerce Cloud 
When considering alternative platforms, evaluate factors such as scalability, customization options, integration capabilities, and cost to determine the best fit for your wholesale store.
FAQs
What are the benefits of offering wholesale on Shopify?
The key benefits of this include:
Increased sales volume

Expansion of distribution channels

Strengthened brand presence

Building long-term partnerships
Bulk orders allow you to take advantage of economies of scale, reducing production and operational costs. 
How much does Shopify Plus cost?
This is a premium plan offered by Shopify specifically designed for high-volume businesses and enterprises. The pricing starts at $2,000 per month and varies based on your specific business requirements. For accurate and up-to-date pricing information, it is recommended to contact the Shopify Plus sales team directly.
What does Shopify Plus have to offer for B2B?

 
It provides a range of features like advanced customization options, multi-channel selling, flexible discounting, wholesale pricing, order management, and support. 
Can I offer different wholesale pricing for different products? 
Absolutely! You can set different pricing levels for individual products or groups of products. This flexibility enables you to tailor your wholesale pricing to meet your business requirements.
Can I customize the look of my wholesale store?

 
Yes, you can customize the appearance of your wholesale store. Wholesale Gorilla provides options to adjust the look and feel of the store to match your brand's visual identity.
Can I track and manage wholesale orders separately from regular orders? 
Yes, you can easily track and manage wholesale orders within your Shopify admin interface. This ensures clear visibility and efficient order management.
Can I use Wholesale Gorilla if I want to offer both retail and wholesale options on my Shopify store? 
The app enables you to offer both retail and wholesale options simultaneously. You can set different pricing and discount rules for your wholesale customers while maintaining regular retail functionality.