In 2022, sales through business-to-business e-commerce surprised more than 623 billion U.S. dollars in the manufacturing industry, according to a survey published on Statista.
The interest in e-commerce remains high, with a report from inRiver stating that manufacturers are increasingly prioritizing e-commerce as a way to reach customers.
Since many manufacturers have traditionally relied on in-person sales and relationships with distributors, it makes the shift to e-commerce a significant change in their business model. Plus, implementing an e-commerce platform can be costly and time-consuming, requiring significant investment in technology, logistics, and marketing.
However, increased sales, improved customer experience, and streamlined operations make it a worthwhile investment for many manufacturers.
In this article, we will share everything you need to know to start your online store from scratch as a manufacturer, avoid common mistakes and implement best practices to scale your business.
How to start your ecommerce store?
1. Do market research for your products
Understanding the market demand for your products enables you to forecast sales, plan inventory levels, and avoid stockouts or excess inventory.
First, conduct thorough market research to understand the demand for your products online. Start by identifying your target audience, their preferences, and their purchasing behavior.
Analyze your competitors selling similar products online to notice a pattern. Market research helps you gain insights into your competitors' offerings, pricing strategies, and marketing tactics, which you can use to your advantage.
You can search for products similar to yours on the most famous e-commerce platforms below. Note their bestsellers, shop outlook, customer experience and most recent reviews to avoid mistakes and implement successful strategies.
2. Choose an e-commerce platform
An e-commerce platform is the base for your online store because features and tools offered by the platform influence how you showcase products, manage inventory, process payments, and handle other essential e-commerce tasks.
Choose the right e-commerce platform that fits your business needs and budget. Consider factors such as ease of use, available features, scalability, payment options, and customer support. Some popular e-commerce platforms include:
| | |
| --- | --- |
| Platform name | Description |
| Shopify & Shopify Plus | Shopify is the standard version of the e-commerce platform and is designed for small to medium-sized businesses. It's user-friendly and great for beginners. Shopify Plus is an enterprise-level version of Shopify, with more advanced features and options for scalability.  Click here to set up your store in Shopify. |
| WooCommerce | WooCommerce is an open-source e-commerce platform that operates as a plugin for WordPress and thus integrates seamlessly with WordPress websites. |
| BigCommerce | BigCommerce is another e-commerce platform that provides a comprehensive and scalable solution for businesses of all sizes to build and manage their online stores. |
| Magento | Magento is an open-source e-commerce platform with numerous features. It's robust and customizable, but may require more technical expertise. |
All of these platforms are relatively easy to set up because they have good customer support and resources.
3. Deal with inventory and logistics
The first thing to do with inventory and logistics is to evaluate your existing inventory to determine which products will be sold online and how much stock you have available.
Product information, such as price, description, or availability, needs to be up-to-date and immediately reflected in the system, so your potential customers don't slip through the cracks.
Whenever a product is sold, ensure that the stock levels are automatically adjusted in both your physical store and e-commerce platform to prevent overselling or stockouts.
After a while, you should implement an inventory management system that tracks stock levels, manages product variations, and synchronizes inventory between your physical store and e-commerce platform.
These systems cost around $175, but they will maintain a centralized database for product information, so any updates made to product data occur in one place, making it easier to keep everything up to date.
4. Set up logistics and shipping
The delivery process directly influences customer satisfaction, so set up reliable shipping methods and partner with shipping carriers to ensure timely and cost-effective delivery to customers. Offer transparent shipping options and provide customers with tracking information to secure maximum customer satisfaction.
If you plan to ship internationally, research customs regulations, duties, and taxes in different countries. Offer multiple shipping options to cater to various international customers.
You can offer incentives such as free shipping for certain order amounts to attract wholesale customers. Wholesale customers are essential for b2b ecommerce because they are returning customers that place large orders.
5. Develop your website
A user-friendly website with a visually appealing design showcases your products effectively. To achieve that:
Use high-quality product images and detailed descriptions to inform customers about your offerings.
Ensure your website is responsive and works seamlessly on different devices, from mobile phones to computers.
Create intuitive navigation, so customers can easily find products, add them to the cart, and proceed to checkout without hassle.
Finally, simplify the checkout process with a minimum number of steps. Offer guest checkout to reduce barriers for first-time customers. As for payment, choose a secure and reliable payment gateway to accept online payments.
Consider popular options like Stripe, PayPal, Square, or Braintree. The payment gateway should support various payment methods and provide a smooth checkout experience.
"Create a user-friendly and responsive e-commerce website, well-organized with product collections, quick order forms, and a clean interface to enhance the user experience for your customers." Brandon, owner of Wholesale Gorilla.
6. SEO and social media marketing
SEO and social media marketing help customers find your shop online. To help them reach you faster, optimize your website for search engines to improve organic traffic and use relevant keywords in product descriptions, titles, and meta tags.
Leverage social media platforms to promote your products, engage with customers, and run targeted ad campaigns on Facebook and Instagram.
To avoid depending on other platforms, you can also build an email list and send regular newsletters to subscribers, offering promotions and product updates. Your customer's private data (emails) are valuable assets for sending personalized promotions. By keeping track of their order history or preferences, you can target them with promotions of their favorite products.
7. Customer support
"Recognize the immense lifetime value of wholesale customers and invest in maintaining these relationships." Brandon, owner of Wholesale Gorilla.
Offer excellent customer support through various channels like live chat, email, and phone. Be responsive to customer inquiries and provide timely resolutions to any issues they may encounter. Implement a system to manage customer feedback and reviews to continuously improve your services.
8. Test and Launch:
Thoroughly test your e-commerce website before launch. Test the website's functionality, user experience, and compatibility across different devices and browsers, to make sure your users have a positive experience.
Conduct a soft launch to a limited audience to identify any potential issues and get feedback.
Once everything is thoroughly tested and refined, launch your e-commerce store to the public and start marketing it to attract new customers.
Top 3 examples of successful ecommerce shops
Allbirds is a sustainable footwear manufacturer that uses Shopify to sell its products online. It's featured on Shopify's" success stories" blog, and its success is mainly due to innovation, transparency and brand appeal.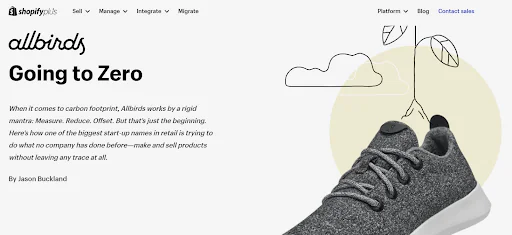 Allbirds has a user-friendly interface with many categories (kids, men, women) and (travel shoes/running shoes). Customers can easily find what they are looking for, pick a color/size and smoothly transfer to the shopping cart.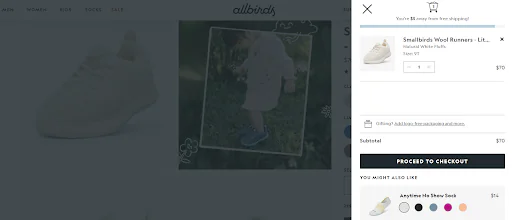 Allbirds implements free shipping after customers suppress a certain amount and upsell with" you might also like suggestions."
Artisaire wax stamps are one of the most popular "arts and crafts" online stores on Shopify. Apart from their intuitive interface, they offer many personalization options, making it a top-notch customer experience.

Artisaire also offers multiple shipping options worldwide, which makes its products accessible to a wider customer base. By having worldwide shipping, different methods and tax coverage, they ensure customers are satisfied after their purchase.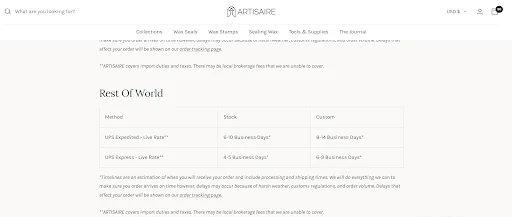 Tofino soap is another great example of a manufacturer ecommerce business. With a clean design and good customer service, they've managed to become one of Shopify's top 50 online stores.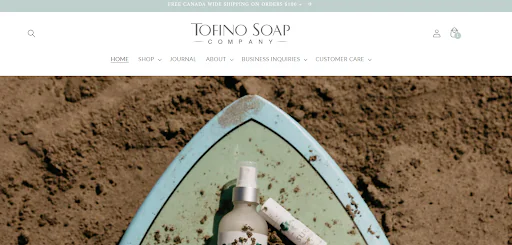 Tofino soap is very fond of customer care and makes sure their policies are user-friendly. Gift cards and discounts are available for their most loyal customers, and they offer both wholesale and retail. By offering these two options, Tofino Soap isn't wasting time on one-time buyers.

Best practices for manufacturers on ecommerce
#1 Mobile optimization first
With the growing popularity of mobile shopping, manufacturers must ensure that their e-commerce platform is optimized for mobile devices. Mobile-friendly websites are important for providing a seamless shopping experience for customers on smartphones and tablets because most shopping is done on these devices.
Therefore, make sure your online store looks good on smaller screens, and users can check categories and pick products without any hassle.
#2 Good customer support
Neglecting or not having customer support can result in negative reviews and a loss of customer trust. Manufacturers shouldn't only provide customer service through emails and chat, but take care of their customers whenever they purchase. Gift cards and loyalty programs are great examples of this practice.
One step further would include marketing materials or small gifts for customers.
" For our textile business, we've included marketing materials with some stuff about the brand, little things that they can optionally display along in their retail displays." Brandon, owner of Wholesale Gorilla.
For wholesale buyers, this relationship is even more important because they can potentially become your life-long customers. To maintain a good relationship with them, make sure they get the most out of selling your products. For example, give them advice on selling points and displaying those items.
Bigger companies like Coca-Cola do this, but smaller companies can practice it as well. For smaller companies, it can be even more successful because it's more personalized and genuine.

#3 Discounts and loyalty programs
To improve your customer retention and keep new customers coming in, a loyalty program and specific discounts will help. You can try:
2+1 free
10% off your next order
Limited-edition
Related products recommendations
Loyalty programs (point collection)
Free shipping for the 10th order
How to scale your ecommerce store
Once you start your ecommerce store, it's important to know how to earn more money from it. Here are some of the most popular strategies successful online stores on Shopify use.
Wholesale
Wholesale orders are generally larger than retail orders, meaning each wholesale transaction contributes more to your overall revenue.
Selling products in bulk to wholesale buyers often allows you to offer discounted prices while still maintaining healthy profit margins. Though individual margins may be lower for wholesale items, the overall profit from bulk sales increases your sales. Wholesale buyers often engage in long-term business relationships, making their lifetime value essential for your business.
With the right B2B e-commerce platform, such as Shopify, you can automate the wholesale process and offer self-service ordering to business customers. Adding wholesale doesn't have to be expensive (like upgrading to Shopify Plus). You can use an app to manage your wholesale business.
>>Here is how to add wholesale to Shopify<<

Wholesale Gorilla has helped 14,000 Shopify merchants reach 500 million in sales and process 830,000 orders. Read about our story here.
Check out Wholesale Gorilla  today and learn more about managing your wholesale store.
Update your product listing
Enhance your product selection to attract more customers to your Shopify store. Look out for a market gap, or analyze what your competitors have and you don't. Make sure the pictures and the product descriptions are relevant, group products in a similar category and offer discounts or small gifts.
Kirrin Finch on Shopify offers multiple sets like "Casual shirts and sets," which is a tactic for upselling customers.

Expand globally
Consider selling internationally to reach a wider customer base and fill the market gap. You want to "bring hot water to a cold place," so find profitable markets where your products meet the demand.
Research and understand the regulations, shipping logistics, and customer preferences of the target markets you want to enter.
Not all target markets will be ideal due to certain regulations and costs. In the beginning, make sure to choose the markets will low costs and high interest. After listening to the feedback and inquiries from your audience, pick other profitable worldwide markets.

Conclusion
As a manufacturer in 2023, you need to step up and step into the digital world to reap all the benefits of an online store. A streamlined business, controlled on your phone, is a dream come true compared to a physical store and crowded trading events.
However, it's not easy to get your first online customers, keep them and scale your business. Luckily, the tips above will help you save time and money, and launch your ecommerce store right away.
If you want to scale your business with wholesale, try out Wholesale Gorilla for your Shopify store with a free trial.
FAQs
What are the benefits of ecommerce stores for manufacturers?
E-commerce stores offer manufacturers several significant benefits, including a wider reach and market expansion, as they can access a global customer base. With round-the-clock availability and convenience, customers can browse and purchase products at their convenience, leading to increased satisfaction and impulse purchases. Additionally, e-commerce reduces overhead costs compared to maintaining physical stores, resulting in higher profit margins for manufacturers.
What are the factors to consider when creating an ecommerce store as a manufacturer?
To create a successful e-commerce store as a manufacturer, focus on these key factors: Choose the right e-commerce platform, prioritize product presentation, ensure a user-friendly website design, offer multiple payment and shipping options, and optimize for search engines. After mastering the basics, you can use our strategies for scaling your business.
What does manufacturer ecommerce mean?
Manufacturer e-commerce refers to the online selling of products directly by the manufacturing company to end customers. In this model, manufacturers create their own e-commerce stores or use online marketplaces to sell their products directly to consumers, moving away from traditional retail channels. Manufacturer e-commerce allows companies to have more control over the sales process, customer interactions, and branding, leading to potential cost savings and increased customer engagement. It also enables manufacturers to scale their business more easily.