Global business-to-business (B2B) eCommerce is on the rise and predicted to reach $33.317 trillion by 2027, according to Research and Markets. 
With demand soaring for quality eCommerce wholesale partners, it's essential to leverage tools for managing wholesale customers and orders effectively. For Shopify users, selecting the right wholesale app will also be key to boosting your business's revenue. 
In this guide, we'll outline considerations for selecting the best wholesale subscription app for Shopify and take your business to the next level. 
What Is a Shopify Wholesale App? 
A Shopify Wholesale app is a software application that allows merchants to create and manage their own wholesale store on the Shopify platform. These apps provide merchants with the tools they need to easily set up and manage their wholesale business, including: 
setting up pricing tiers, 
creating customer accounts, 
managing orders, and 
tracking inventory. 
By leveraging the robust capabilities of wholesale apps, merchants can quickly and easily create a professional-looking wholesale store tailored to their specific needs.
Is it Worthwhile to Sell Wholesale Through Shopify?
Selling wholesale on Shopify is certainly a worthwhile option for eCommerce companies. That's because selling wholesale helps companies expand their customer base and boost revenue. By offering wholesale prices to approved customers, businesses can attract larger orders and build relationships with other retailers and distributors. 
Using a Shopify wholesale app can also help streamline the process of managing wholesale customers and orders. This will save you time and improve your business's efficiency.
Key Features to Consider in a Wholesale App
When evaluating a wholesale app for Shopify, it's important to determine which features are most critical for your business. The app you choose should contain all the features you need to effectively manage your wholesale customers and orders. These wholesale app key features are outlined and defined below.
 Wholesale Registration Form
A Wholesale Registration Form allows customers to apply for a wholesale account and obtain approval from the business.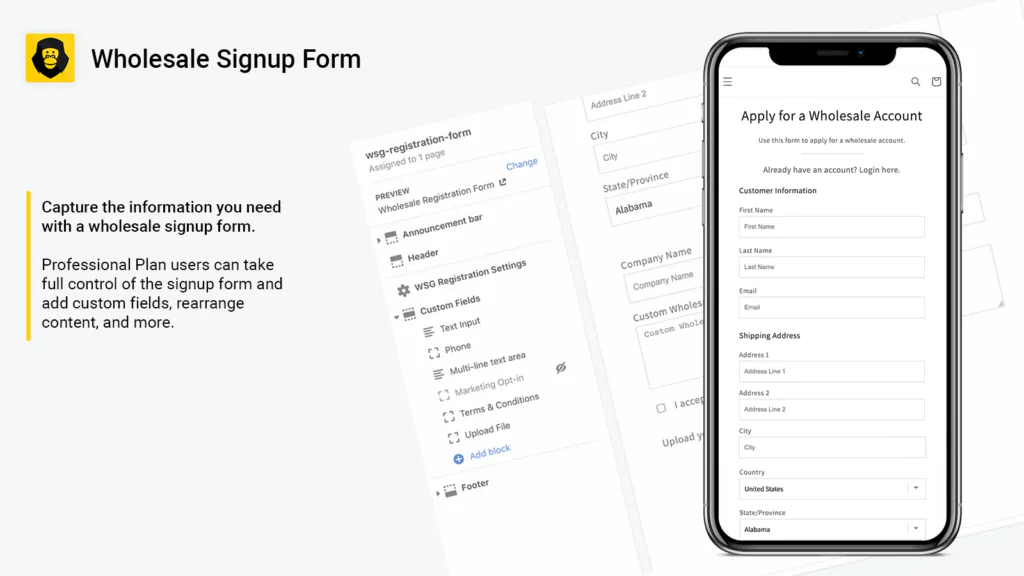 Wholesale Customer Dashboard
A Wholesale Customer Dashboard allows wholesale customers to view their order history, track current orders, and access their account information.
Wholesale Order Form
A Wholesale Order Form provides wholesale customers the ability to place orders directly on the website, with wholesale pricing automatically applied.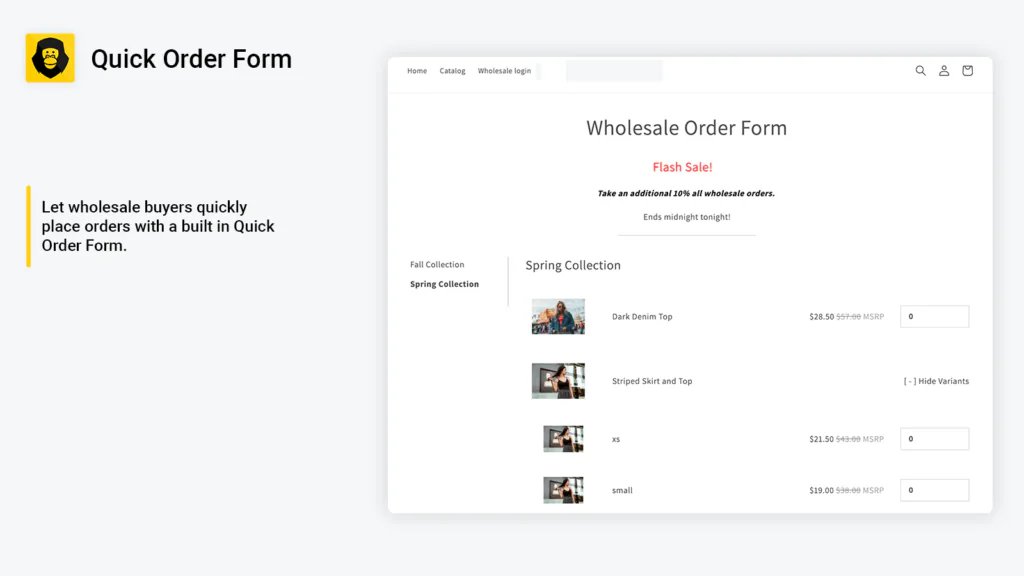 Inventory Management
An Inventory Management system allows your wholesale business to track stock levels and update prices for wholesale products.
Customer Relationship Management (CRM) System
A Customer Relationship Management System, frequently called a CRM, is a software that allows businesses to manage and communicate with their wholesale customers. This includes sending out marketing campaigns and tracking customer purchase history.
Reporting and Analytics
Data is vital for making good eCommerce business decisions today. A wholesale app's Reporting and Analytics feature provides insights on sales, customer behavior, inventory, and other important metrics to gauge the success of your operations. 
Customizable Pricing and Discounts
Customizable Pricing and Discounts allows businesses to create wholesale pricing discounts and set tailored pricing for different wholesale customers.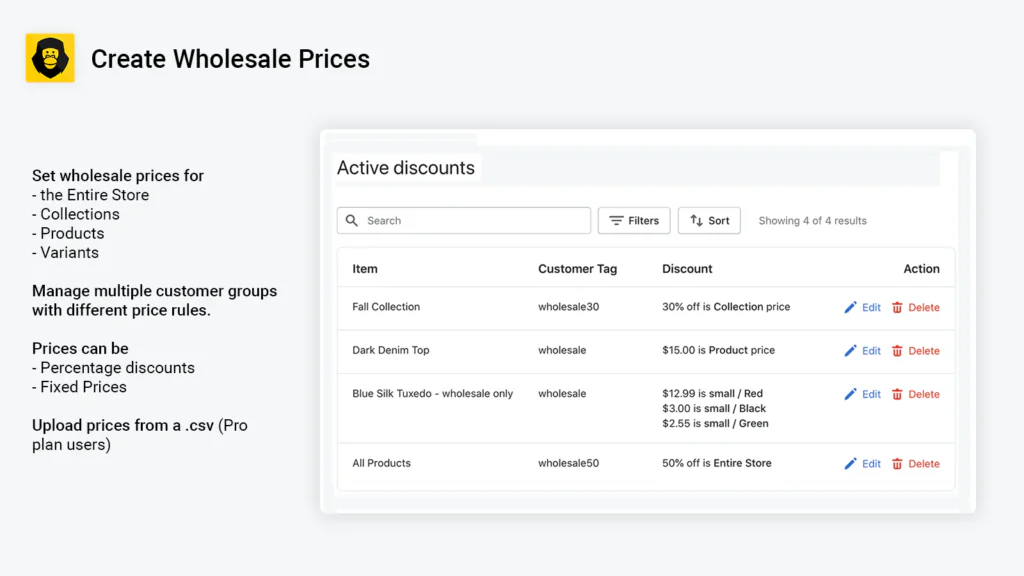 App Integration
User-Friendly Interface
A wholesale app's User-Friendly Interface provides an intuitive and simple-to-navigate experience for your customers. Providing your customers a high-quality user interface will reduce complaints and boost business because it will be enjoyable to work with your platform.  
Good Customer Support
Good Customer Support is arguably one of the most important features of a wholesale app. Support, along with proper documentation, allows your business to get the most out of the app and quickly solve any issues or answer any questions that arise. 
Reliability
Your app's Reliability and good track record of performance will allow you to continue operating with confidence that your business's wholesale orders are being managed smoothly. 
Scalability
As you think about your business growth, your wholesale app's Scalability should be able to handle expansion as your wholesale orders increase.
Price
The Price you pay for your Shopify wholesale app should be reasonable and provide good value for your hard-earned money. 
Reviews and Ratings
The wholesale app you choose should also have good Reviews and Ratings from other users, which can provide valuable insight into the app's performance and customer satisfaction.
Security
In today's day and age, it's mandatory that your wholesale app provider delivers robust Security features to protect customer data and information.
By carefully evaluating the features of Shopify wholesale apps, you'll have the peace of mind that the software you choose will provide the support you need to operate and grow your eCommerce business.
Your Wholesale App for Shopify
Wholesale Gorilla was created by a team of former wholesale merchants, so we understand your needs and paint points as an eCommerce business.
Wholesale Gorilla enables you to easily manage your wholesale customers and orders via Shopify and keep your company running smoothly. Our portal also gives you access to deals and discounts and helps you maximize profits. 
Contact our Wholesale Gorilla team to learn how we can help you take the stress out of online wholesale sales.