Wholesale ecommerce is a type of B2B ecommerce where the store owner sells their goods in bulk to retailers, distributors or other businesses. Switching from retail or offering wholesale prices is a wise business decision because it provides greater scalability, simplifies the buying process and helps expansion to new markets.
By establishing long-term deals with B2B customers, automating their buyer journey and reducing the need for physical stores, wholesale can pay off big time for ecommerce store owners.
In this article, we will show the eight steps you need to take to start and grow your wholesale ecommerce business.
How to build a successful wholesale business in 8 steps
If you want to start your ecommerce store first and add wholesale later, check out this article on ecommerce for manufacturers. However, if you are ready to get into wholesale, follow these steps below:
1. Do market research
Doing market research for wholesale isn't the same as for classic ecommerce shops. For retail, customer research refers to identifying the buyer persona, while for wholesale, those aren't people but other businesses.
The first thing you need to do is define your target audience, in this case, your B2B customers.
For example, do extensive research and identify local boutique retailers, gift shops, or other stores that can potentially be your wholesale customers. The next step is to find and define their business needs clearly.
For example, your research shows that boutique retailers often seek unique accessories that can differentiate their offerings and attract customers.
To gain a competitive advantage, you should analyze historical purchasing data to identify where boutique retailers often buy custom accessories in quantities of 100 units or more.
Once you've clearly highlighted the offer you are competing with, it's time to make a better one. You can create tiered pricing structures, offering more competitive prices per unit for larger orders, consequently encouraging bulk purchases.
Customization is a key differentiating factor. If your research reveals that boutique retailers appreciate customization options, you can include personalized packaging with their store logo.
Since boutique retailers prefer an easy-to-use wholesale portal for placing orders, tracking shipments, and managing invoices, your online store will be a perfect fit. This can be a competitive advantage if they haven't switched to ecommerce yet.
Targeting these particular businesses will give you an overview of your future buyers and their needs. Even though with ecommerce, your buyers get to you before you get to them, it's always a great idea to have a base of customers and draw conclusions from experience.
Your first buyers have the greatest potential to bring you revenue and more customers, so make sure to invest your time and energy in these relationships.

2. Select your products
Now that you know your interest group, it's time to find the products you will sell to them easily.
To find these products, one of the best strategies is competitor analysis, market trends and demands analysis. It all comes down to – To fill a market gap, stand in front of thirsty people and provide them with water, not vice versa.
That's why the market research comes beforehand. Once you clearly understand your part in the market, you need to find your products. Explore direct manufacturer relationships, trade shows, and online marketplaces.
It's pretty rare to find something innovative, and you don't have to. You need to offer either something:
More affordable
More user-friendly such as faster shipping, easier ordering
More personalization options
More products in a bundle
At this stage the focus is still on satisfying the market, while your profit discussion will come later on.
How to set up wholesale prices
At this point, you need to figure out if the products are the right fit in terms of your profit.
To have a high-profit margin, you need to set up the price of your wholesale items twice as high as your manufacturing costs.
To calculate your wholesale price, add the costs of manufacturing with the costs of overhead (if applicable) and multiply it by two.
Not all products will have the same pricing structure and profit ratio.
With modern wholesale apps, like Wholesale Gorilla on Shopify, you can offer different wholesale pricing for different products; therefore, you can tailor your wholesale pricing based on your goods or customers.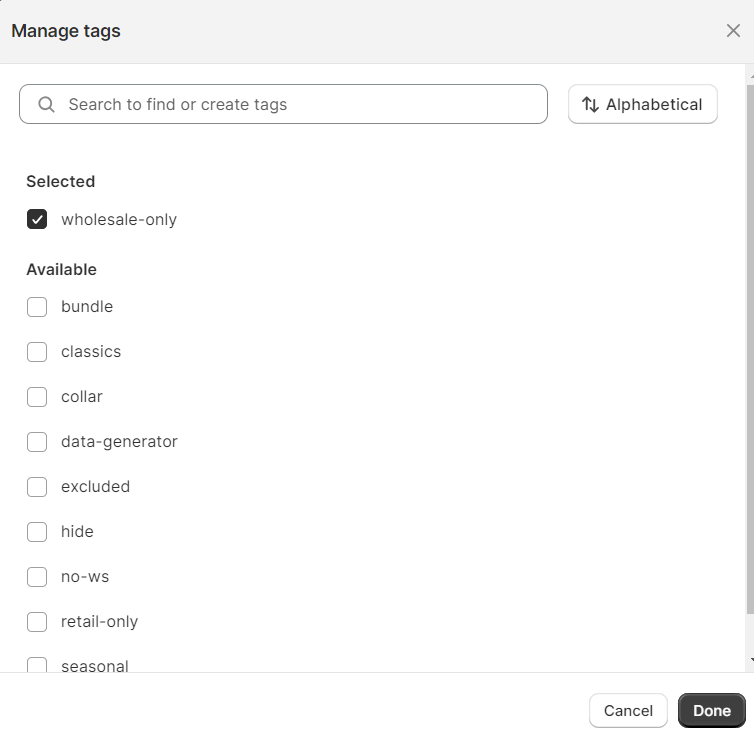 3. Structure your business
To set up a legal entity, you will need a tax identification number (TIN) or an employer identification number (EIN) to sell wholesale.
Another ID you will have to have is a" wholesale ID". While a TIN or EIN is a broader identification number used for tax and business purposes, a "wholesale ID" (also called reseller's permit or sales tax permit) is a specific permit that authorizes your business to engage in wholesale activities and manage sales tax.
The exact name of this license can vary depending on the state (or country) you're from, so you need to become familiar with your state's law to make sure you have the right permits.
4. Choose a wholesale ecommerce platform
When choosing a wholesale ecommerce platform, here are the main aspects you should look for:
Useful features –

Flexible discount rules, bulk ordering and order management are some of the most important features for wholesale sellers.

Integrations –

The platform must be integrated with CRM, API, payment getaways,  supplier systems and analytics tools to have a streamlined operation.

Optimized for search –

To help your customers find and navigate your store easily, the platform needs to be optimized for search.

Security –

 A separate, password-protected wholesale store will provide a safe space for yourself and your customers.
Best b2b wholesale ecommerce platforms 
Shopify Plus

Source:Shopify.com
Shopify Plus is an enterprise-level version of Shopify with more advanced features and options for scalability. It's one of the most well-known platforms for wholesale due to its ability to handle high levels of traffic and sales volume, customization options through themes and templates, and wholesale-specific features such as custom pricing tiers and bulk ordering.
Even though Shopify Plus has many great features, the price may be high for people just starting out. The pricing starts at $2,000 per month and varies based on your specific business requirements.
However, there is a way to use the benefits of one of the most popular ecommerce platforms, Shopify, with more affordable pricing – adding a Shopify wholesale app. Using a wholesale app for Shopify like Wholesale Gorilla is a cheaper alternative to Shopify Plus for adding wholesale to Shopify.
Wholesale Gorilla app – manage wholesale easily on your ecommerce website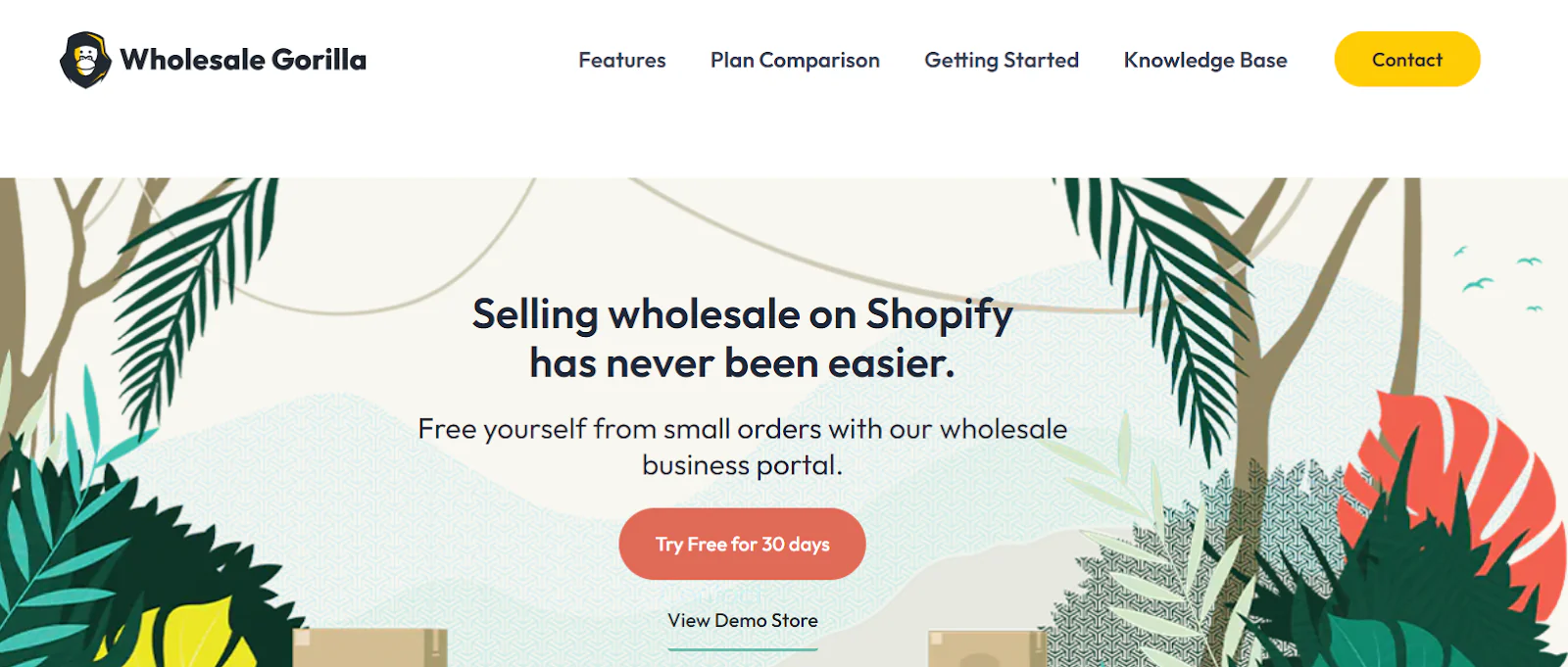 Wholesale Gorilla is a wholesale business portal that helps small businesses manage their large-scale orders with ease. The app's features, like wholesale checkout, quick order form and product exclusion, offer more flexibility, while the two pricing plans help users pick their perfect plan.
A full list of the most important features:
Wholesale pricing – Set different pricing tiers for your wholesale customers, ensuring they receive exclusive discounts.

Flexible discount rules – Create custom discount rules based on order quantity, customer tags, or specific products.

Private wholesale store – Create a separate, password-protected wholesale store for your wholesale customers.

Bulk ordering – Wholesale Gorilla enables your customers to add multiple products to their cart with just a few clicks, streamlining the ordering process.

Order management – Easily manage and track wholesale orders within your Shopify admin interface.

Customizable emails – Customize order notifications and emails sent to your wholesale customers to maintain brand consistency.
You can test the tool for 30 days free of charge, or you can choose a pricing plan starting at $39.95 per month.
Here is a detailed step-by-step guide on How to add wholesale to Shopify, without upgrading to Shopify Plus.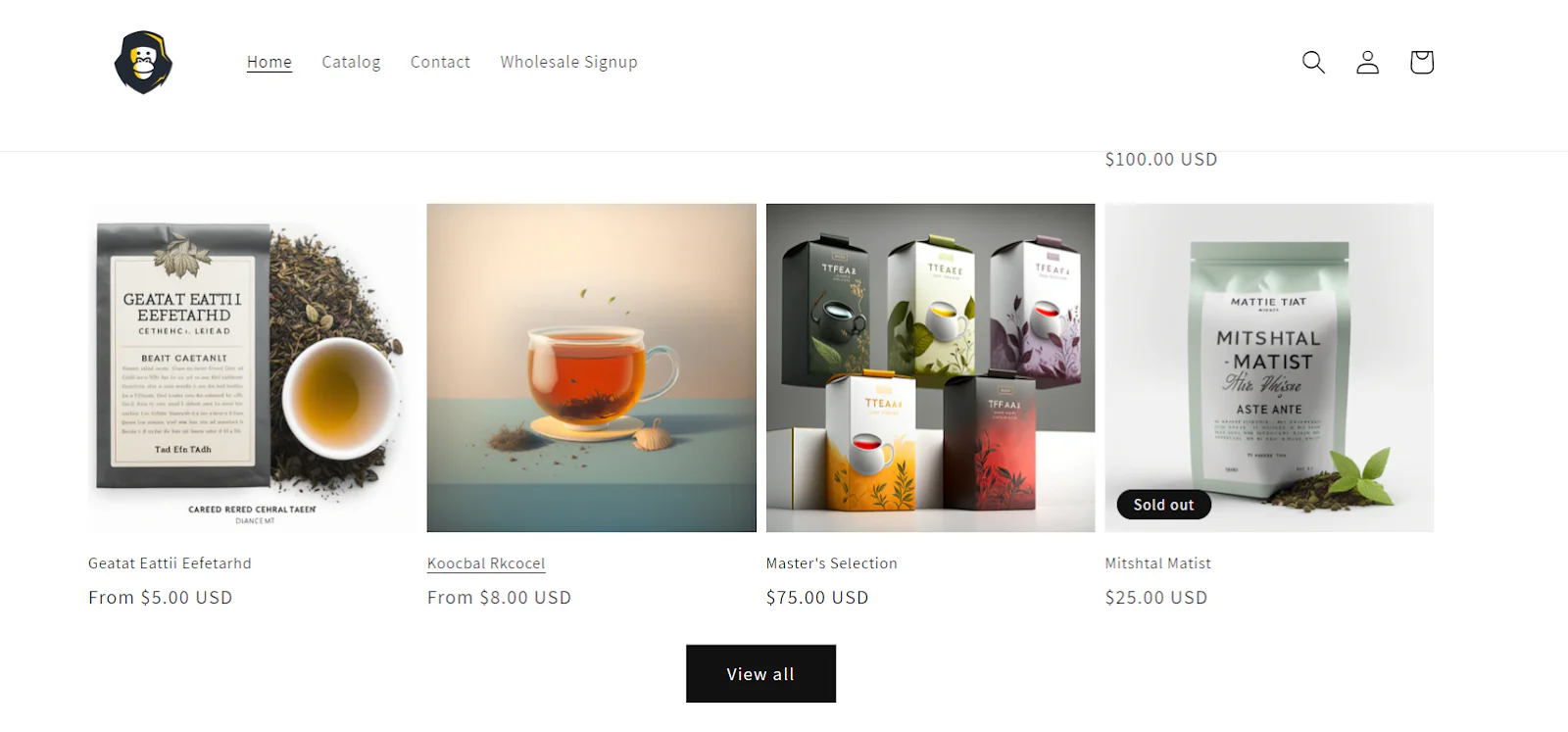 Wholesale Gorilla has helped 14,000 Shopify merchants reach 500 million in sales and process 830,000 orders. It's a perfect fit for businesses using Shopify but wanting to navigate wholesale easier, or new businesses looking for a more affordable way to get into selling larger scale orders.
Read about our story to discover how we help out small businesses thrive in wholesale.
If you don't want to work with Shopify or Shopify Plus, consider Alibaba and BigCommerce. BigCommerce is a great option for businesses just starting out because of the lack of fees and commissions, a user-friendly interface, and multichannel integrations. However, it may cause issues with scaling because users have reported bugs when they have an extensive product catalog or higher order volume.
On the other hand, Alibaba provides their wholesale businesses with an extensive pool of potential partners, which may pose some language barrier problems and a steep learning curve for beginners.
Even though these platforms have some advantages, Shopify remains the e-commerce software platform with the largest market share, according to Statista.
5. Set up your account
Once you have resolved the theory, let's put it to use and open your online store. If you already use Shopify, you can upgrade within the platform or download a Shopify wholesale app. If you are starting from scratch, you can set up Shopify in a couple of minutes with a free trial.
Click here to set up your store in Shopify.
Once you have your store, let's set it up for wholesale. All you need to consider is:
Creating a wholesale-specific homepage and a navigation menu

Assigning customer tags or groups to your wholesale customers to differentiate them from retail customers.

Setting up collections that contain products specifically intended for your wholesale customers.
You can find these settings on Shopify Plus or download Wholesale Gorilla from the Shopify App store, set it up in minutes and automate the process.
6. Create a catalog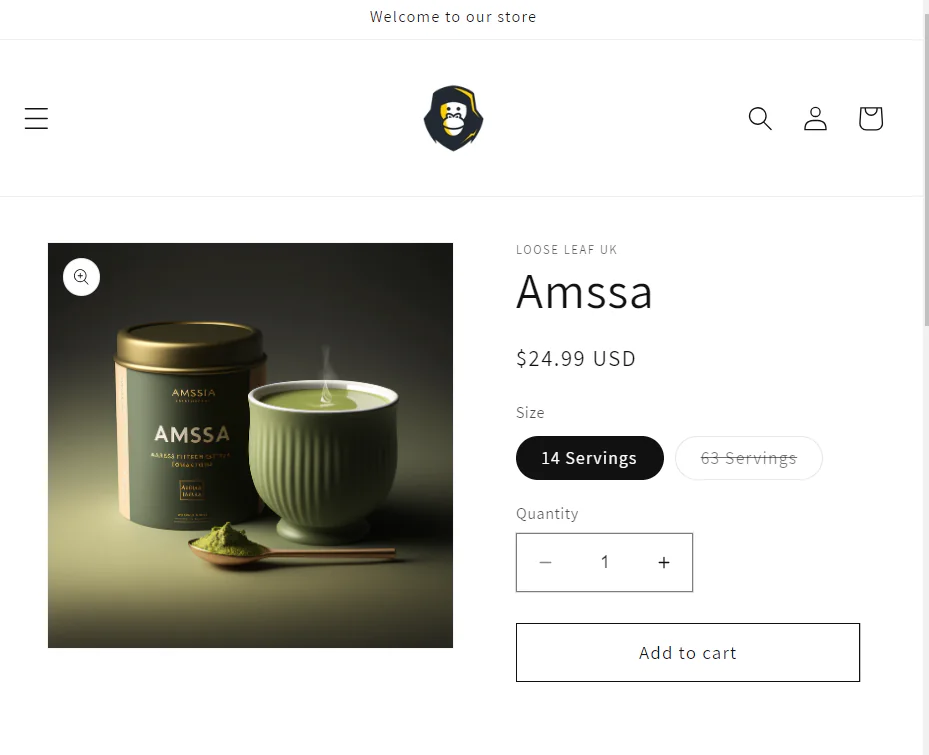 Once you've chosen your platform, it's time to think of the way you want to present your products. Collections are groups of products that share common attributes. They allow you to organize your products in a logical way within your wholesale catalog, so your customers can order large quantities of similar products in minutes. Here's how to create collections:
In your Shopify admin dashboard, go to "Products" and then click on "Collections."

Click the "Create collection" button.

Name your collection (e.g.," Purse Accessories").

Add products to the collection by manually selecting them or using conditions based on product tags, titles, etc.
Develop a comprehensive wholesale catalog with detailed product descriptions, specifications, and wholesale pricing. 
A detailed product description should include the product's main keywords, benefits, features, and specifications. Specifications will vary from materials, colors to dimensions and sizes depending on your products.

Don't forget to display wholesale pricing prominently alongside each product because wholesale buyers need to evaluate the cost of their order easily. With apps such as Wholesale Gorilla, you can hide certain products from either wholesale or retail customers.  Professional plan users can go even further and hide products from specific groups of wholesale buyers. 
All you have to do is go to your products tab, pick a product, and then scroll down to the tag section and add the tag "wholesale only." Click save, and you are good to go.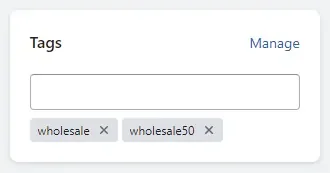 Design the catalog with a clean and organized layout. Use consistent fonts, colors, and formatting for a professional appearance. Avoid clutter and ensure that the text and images are easily readable.
Regularly update the catalog with new products, discontinued items, and changes in pricing. This ensures that buyers have access to the most up-to-date information.
7. Promote your store
To get to your customers quickly, utilize content marketing and email marketing early on. 
With email marketing, you should target prospects and potential customers. Since ecommerce store owners benefit more from retaining customers than gaining new ones in the wholesale business, it's best to keep your audience warm with great deals. Make sure to remind them of your products in their inbox by offering exclusive discounts, personalized bundles or customized suggestions.
Content marketing alongside keyword SEO will help your ideal audience find you when looking for your products. However, with B2B, it's not only who has the best products but who offers the best deals, so make sure you find your warm audience and heat them up with better products or better offers.
Paid advertising is another way to spend your money usefully if you know your potential audience's social media preferences.
8. Monitor performance

How to monitor your KPIs (key performance indicators) for your wholesale Shopify store?
Go to Analytics and check:
Total sales to get an overview of your income
Sales by channel to determine where your sales are coming from
Online store sessions to determine where your traffic is coming from
Online store conversion rate to determine how many viewers you turned into buyers
Total orders, returning customers rate and average order value to find out your loyal customers
Top-selling products to determine stock level and email marketing campaigns
The most important metrics for wholesale are the top-selling products and the returning customers rate because you need to build long-lasting relationships with your buyers.
Conclusion
In conclusion, the realm of wholesale ecommerce industry has amazing opportunities for growth and success. With the market predicted to experience significant expansion, driven by a projected compound annual growth rate of approximately 31.55% from 2023 to 2030, businesses should consider wholesale right away.
In this comprehensive guide, we've delved into the details of wholesale e-commerce, unraveling the nuances of market research, product curation, best ecommerce platform selection, catalog creation, account establishment, strategic promotion, and performance monitoring.
Our mission has been to equip you not just with surface-level information but with a profound understanding of each stage, enabling you to embark on your own wholesale e-commerce venture with confidence and vision.
Wholesale may be challenging to start with on your own, especially as a small business owner, but an app like Wholesale Gorilla has your back.
FAQs
Is it better to do wholesale or retail?
Depending on your business goals, you can decide if wholesale or retail is a better option. With wholesale, you can have lower fulfillment costs, ship products in bulk, build long-lasting relationships and focus on automation. While with retail, you can build more personal relationships and focus on customization.
What is wholesale ecommerce?
Wholesale ecommerce means selling products in bulk to other businesses in the same or similar market. Instead of selling to individuals, the focus is on B2B. Ecommerce implies an online platform for this transaction and buying journey, instead of other more traditional ways of commerce.
Why is wholesale cheap?
Wholesale prices are lower because it's implied that the customers purchase their stocks directly from manufacturers or producers without additional costs. Plus, the larger the order volume, the lower the price, if you want to sell in bulk. By offering a discount, wholesalers can still make a profit while selling their products at a lower price. Since the goals are long-term, for wholesale, retention is key.